New USA Stokes School of Marine & Environmental Sciences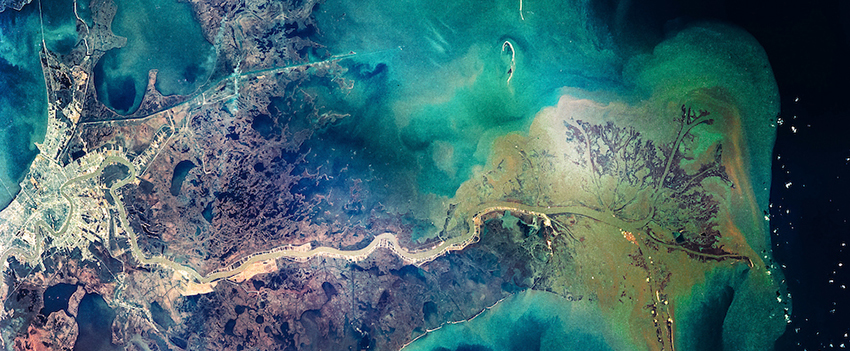 Our History
Due to the continuous growth of the Department of Marine Science, the College of Arts and Sciences proposed a Stokes School of Marine & Environmental Sciences. The proposal was approved by USA administration and the Alabama Commission of Higher Education in March 2021.
The School will be modeled after the successful programs at Duke University and University of California at Santa Barbara. Both programs focus on applied and basic research in marine and environmental studies with programs for students to attain academic and research degrees as well as professional degrees that enable students to enter the job force immediately.
Our Future
USA will be expanding the undergraduate offerings in marine sciences, with the addition of an undergraduate curriculum in environmental and sustainability sciences and a new professional M.S. degree in marine and coastal spatial planning. The focus of the School will be to create education and research opportunities for research in the coastal and marine environment.
USA marine scientists conduct research from the Arctic to Antarctic and many locations in between. We are a regional leader in ensuring sustainable use of the coastal and marine resources of the Gulf of Mexico.
Traditionally, Schools are nested within Colleges and are used to strengthen interdisciplinary subject matters. Both marine sciences and environmental sciences are highly interdisciplinary and will link chemistry, biology, geology, physics, engineering, sociology and business (among others), with a focus on sustainability.
Creating a Stokes School of Marine & Environmental Sciences establishes USA as a leader in the State of Alabama conservation efforts and as a strong competitor with other universities in the region.
Expansion
With the approved creation of the Stokes School of Marine & Environmental Sciences, we will continue to build upon our success in research, increase academic opportunities for undergraduate and graduate students and increase the prominence of our efforts through service.
Specifically, Stokes School of Marine & Environmental Sciences plans to:
Expand current degrees: M.S. in Environmental Toxicology program, M.S. and Ph.D. programs in Marine Sciences, M.S. in Marine Conservation and Resource Management
Launch two new B.S. degrees: Environmental & Sustainability Science and Marine Sciences
One new M.S. degree: Marine and Environmental Spatial Planning and Analysis*
*All new programs are subject to approval by the University and the Alabama Commission on Higher Education.
Investment
The University of South Alabama has invested approximately $2.5 million in renovating new research and teaching space on campus for the Stokes School of Marine & Environmental Science.
Additional investments from individuals, corporations and foundations in new faculty and equipment for the analytical facilities are needed. Recruitment of students can be facilitated through creating new undergraduate scholarships and graduate assistantships.
To view naming and scholarship investment opportunities, click here. To learn more about ways to give in support of the Stokes School of Marine and Environmental Sciences please contact:
Dr. Andrzej Wierzbicki
Dean
USA College of Arts & Sciences
awierzbicki@southalabama.edu
(251) 460–6280
Dr. Sean Powers
Stokes Chair for the
Environmental Resiliency Center
Director
Stokes School of Marine & Environmental Sciences
spowers@disl.org
(251) 460–7136
Margaret M. Sullivan
Vice President
Development & Alumni Relations
msullivan@southalabama.edu
(251) 460–7616
William Holley
Senior Director
University Development
wholley@southalabama.edu
(251) 460-7697
Lori N. Harris
Development Office
USA College of Arts & Sciences
lnharris@southalabama.edu
(251) 414-8064