Simulated Conditions, Real Results: South's Health Simulation Building Opens
---
Posted on February 14, 2020
Joy Washington
---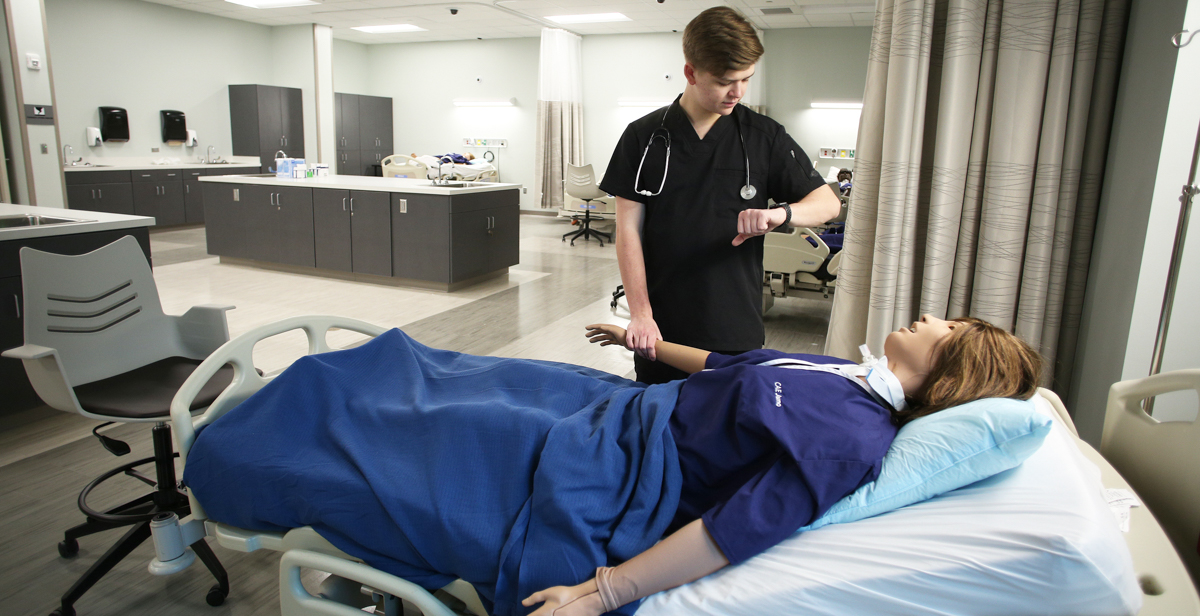 Will Rayner, a professional health sciences major from Hoover, Ala., practices on one of the high-tech patient simulators in the new, 39,000-square-foot Health Simulation Building. The facility is used by South's nursing, allied health and medical students.
---
What started out as a small closet at the University of South Alabama grew to a 6,000-square-foot wing, and has now expanded to a 39,000-square-foot building. It is in this building where students and faculty from USA's colleges of nursing, allied health professions and medicine, along with USA Health healthcare professionals, will now come for clinical training at the new University of South Alabama Health Simulation Building.
The new high-tech equipment and computerized human-like simulators will help students have a real healthcare experience, with faculty and staff leading the instruction. The computer-controlled simulators are used to create customized scenarios, which mimic real patient conditions. All classrooms are equipped with 50-inch television monitors for instruction and walls of glass to create a tranquil learning environment. Classroom sizes can change based on need with wall petitions.
"The new facility is state-of-the-art and it allows the students and healthcare professionals the opportunity to train in a low-stress and high-learning environment," said Dr. Mike Jacobs, professor and director of the USA Simulation Program. "The new Health Simulation Building will give students a variety of situations in a safe environment. We want them to develop critical thinking and decision-making skills required in the different healthcare academic disciplines. Some of the human simulators come with features such as the ability to talk and breathe. They also have heart and lung sounds and pulses throughout the body and so much more."
The new building has multiple skills labs and classrooms, plus observation spaces with a high-tech multimedia system. Faculty will be able to review videos of procedures and give feedback to students.
Will Rayner, a professional health sciences major from Hoover, Ala., is excited about the new Health Simulation Building. He hopes to graduate from USA in 2021 and enroll in South's physician assistant studies program, mainly because of the University's simulation program.
"I am so excited about this new building and how it will help me and other students grow and be prepared as healthcare professionals," Rayner said. "It's a unique opportunity to bridge from learning what we read in a book to a real-world healthcare experience. In this building, where we can work with the simulators, we can make mistakes and learn from them to be better future healthcare providers. Practice makes perfect."
Rayner will put his practice to work next month. "I am excited that I will be attending a study abroad medical program in Peru this coming March. I will participate in a study abroad internship in healthcare administration. I will be serving women and children patients. My experience through the simulation program has inspired me to serve abroad."
Jacobs' first experience with simulators was when he was serving his country as a Marine. From there, he became an associate professor of nursing at USA. He attended a conference and learned about the new simulator technology for healthcare, and was able to convince USA administration to allow him to start the program at South in 2008.
"I started in a 10-by-12 closet with two simulators," he said. "Now, we have more than 70 simulators and beds at the USA and Baldwin County campuses. I am a huge patient advocate. Patient outcomes are important, and as a self-sustaining program, we will be able to provide our students and healthcare professionals with an outstanding learning environment that has the technology needed to assist future and current healthcare providers."
Public tours of the new building will be held at 3 p.m., Thursday, March 5 with a dedication and ribbon-cutting ceremony at 2 p.m., Friday, March 6.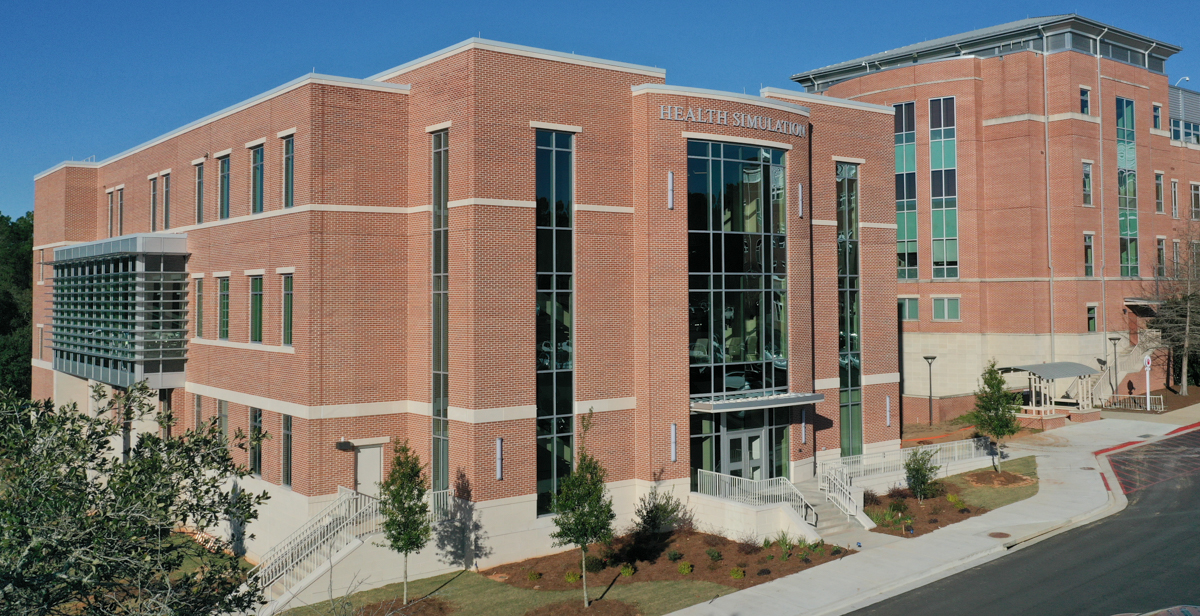 South's 39,000-square-foot Health Simulation Building, adjacent to the Health Sciences Building, is designed for clinical training using computerized patient simulators.
---