Game Time at South
---
Posted on September 30, 2021
Thomas Becnel
---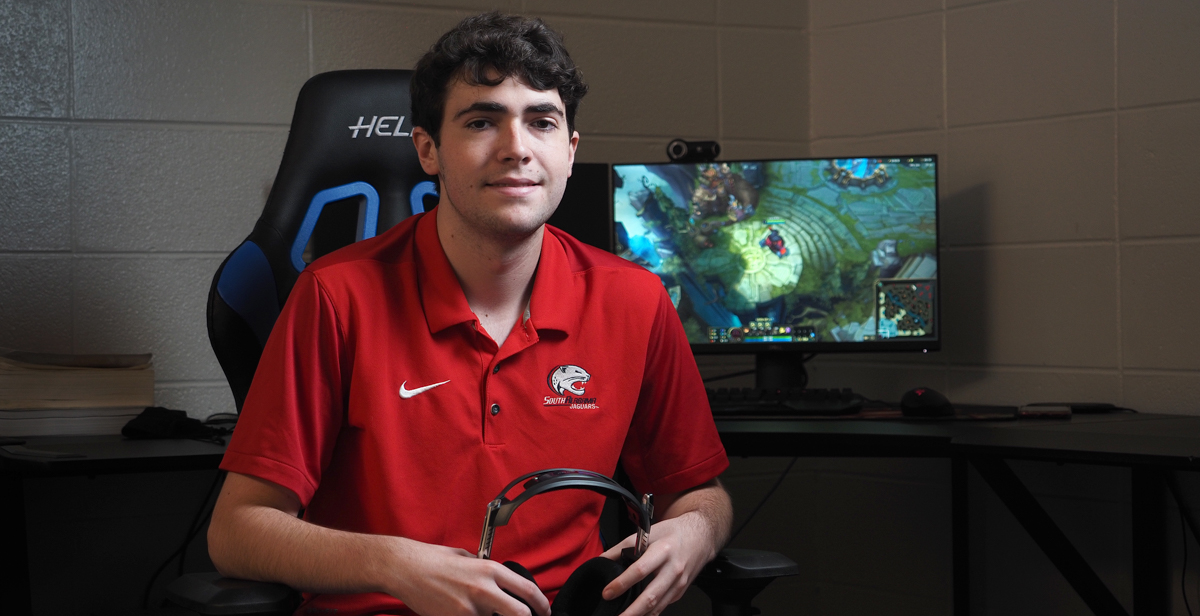 At Thompson High School, Carter Mandy was on a state championship esports team. He's joined South's team and is majoring in radiologic sciences.
---
#FreshmanFocus is a series of stories on incoming students at the University of South Alabama.
When the esports team at South practiced against the University of Hawaii, Carter Mandy took his usual top lane position in League of Legends, the multiplayer online video game.
The September scrimmage ended at midnight – the Jaguars lost – thanks in part to the difference in time zones.
"It was the afternoon for them," Mandy said, "but we were all tired after going to class all day."
The freshman from Alabaster, Alabama, is looking forward to college gaming, but he chose the University of South Alabama because it offered an undergraduate program in radiologic sciences. After graduation, he'd like to become an MRI technician.
This career path was influenced by his own medical history. At the age of 15, Mandy was diagnosed with Crohn's disease and Ankylosing spondylitis, a type of arthritis. He lost 30 pounds and spent months in physical therapy.
"It was bad," he said. "I could barely kick a soccer ball."
Mandy recovered enough to rejoin his high school cross-country team and resume work as a youth soccer referee. His part-time job this fall is assigning referees for big soccer tournaments in the Birmingham area. He can make a few hundred dollars in a single weekend.
The sport is one of many things he shares with his father.
"He did Boy Scouts; I did Boy Scouts," he said. "He did soccer refereeing; I did soccer refereeing. He's an assigner; I'm an assigner."
Mandy learned South had an esports team when he came to Mobile for a college tour. He's met teammates and made friends on campus.
At Thompson High School, he was on a state championship esports team. He began playing League of Legends more often during his illness. He figured he might as well get good at the most popular online game in the world.
"It's pretty fast-paced," he said. "Every decision has to be fast and one small mistake could cost you the game. I'll tell you what, your heart rate does increase a lot when you're playing that game. When we were at state, a lot of boys were sweating, because you're nervous and there's a lot on the line."
What's the most important thing you brought with you to South?
"Probably my computer, the desktop I built when I was in high school. It's pretty good – I won't have to modify it any time soon. It has an i9 processor and a 2080 graphics card. Two terabytes of memory and 16 gigabytes of storage."
Wait – back up. You built your own computer? Is that as hard as it sounds?
"A lot of people think it's hard, but to be honest, it's like putting together Legos. You can't possible mess it up. It's so easy – you just put things in. There's only one spot they can go. The only hard part is making sure they're all compatible with each other. That's the only issue you could have, not getting the compatibility correct."
What's the longest time you've spent playing a video game?
"I'm not proud to say this, but the longest I've stayed awake playing video games was 72 hours. It was back in high school. Such a poor decision. It was fun, you know, it was fun, but I looked like a zombie afterward. Finally, I crashed and slept for 14 hours."
Are you still finding your way around campus?
"I have this old bike from when my dad was in college – it's older than me. The only problem is getting back from the Dining Hall. I have two routes – the really long route or the one that's short but goes uphill the entire way. Good way to burn off everything I just ate."
"What's it like refereeing a soccer game?
"The best part, what I like the most, is teaching the younger kids."
What's the worst part?
"Parents. Parents thinking they know the rules better than you do. But I've learned to handle them with just a few words."
You live in Gamma Residence Hall? How's that going?
"Good, good. There was a cookout with the resident assistants. That was fun. We got into it, playing beach volleyball."
Do you have a favorite place at South yet?
"My favorite spot would be in between the two humanities buildings, the sky bridge with the little snack bar and everything. I like to sit in there between classes. When I come from anatomy and physiology, I have about an hour and a half to kill. I sit in there, work on school stuff, watch some videos, eat a snack. They have sushi containers, and I've been meaning to try one of those."
---