Biloxi Student Turns to South
---
Posted on October 14, 2020
Thomas Becnel
---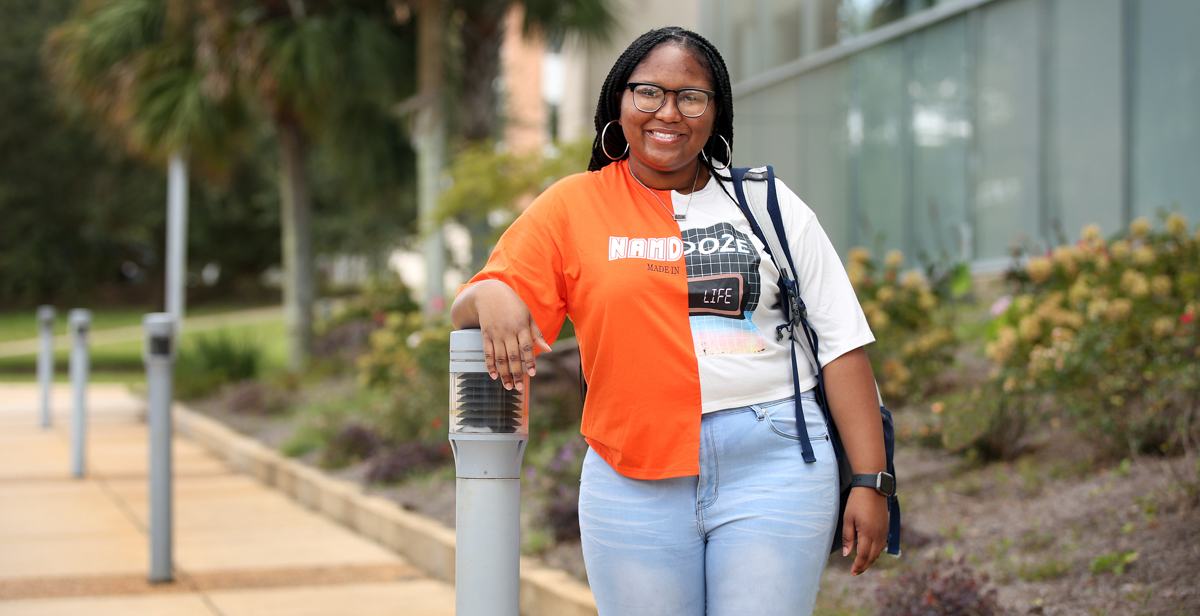 Kaylee Williams, a freshman from Biloxi, said the novel coronavirus kept her from visiting South Korea, but she hopes to learn how to speak the language as well as Spanish.
---
#FreshmanFocus is a series focused on incoming freshmen at the University of South Alabama.
During their first week at South, Kaylee Williams and her roommate tried a playful way to introduce themselves to neighbors in their residence hall.
"We wrote notes and slipped them under people's doors," she said, laughing. "We wanted to reach out and make new friends. We saw it on TikTok."
Williams, 18, is an international studies student from Biloxi. She would like to learn to speak Spanish and Korean. She hoped to visit South Korea before starting college, but couldn't because of the coronavirus pandemic. She also wants to become a physician or a dentist.
"Ever since I was a little girl, I wanted to be a doctor," William said. "I always admired my pediatrician, and she inspired me. I shadowed her when I was in high school. I shadowed my dentist, too."
Her roommate is her best friend from Biloxi High School. She also wants to become a doctor. They plan to study together in chemistry classes.
At South, Williams is interested in the Black Student Union. She would like to join a sorority. In her spare time, she enjoys shopping for clothes and listening to music.
"I like hip hop and R&B, and I like Spanish and Korean music, too," she said. "Korean hip-hop sounds very similar, just in Korean."
Eight questions for Kaylee Williams:
What advice did you get before leaving for college at South?
"My grandma told me not to worry about the little things, just make sure I do well in class. My mom said to make sure I'm safe and enjoy college life the best I can."
How are your classes?
"I have Freshman Year Experience, trigonometry, Spanish I and global issues, which is an international studies class. It's about environmental and political things happening around the world. It reminded me of my conservation biology class in high school. I want to be more involved in environmental issues. If I had more time, I would be."
What's your schedule like?
"Everybody told me not to schedule classes really early in the morning, or late in the day, because then you might miss them, but I have global issues at 8 a.m. on Tuesdays and Thursdays. That's early. I'm not a morning person. I'm more of an afternoon person."
Do you have a favorite spot on campus?
"I do, actually. I like to go and sit on the first floor of the Student Center. It's open and all, but it's very quiet, and I can get my work done."
What else have you discovered at South?
"On Wednesday nights, we went to the dodgeball games at the Student Recreation Center. I can't throw, so I just dodge. The first night it was glow-in-the-dark dodgeball. The second time it was 2000's music with people like Rhianna, Katy Perry and Lil Wayne."
Do you work on campus?
"I have a job at Marx Library and take the walking trail to get there. I thought I'd be on my feet the whole time, but it's more like a desk job. I'm the one who makes sure students check in with their Jag numbers. They're always asking me if they need their cards, and I say yes, and they should memorize their Jag number."
Have you been to Jaguar football game?
"Yes, I went to my first game. I missed the fireworks in the beginning, but I got to see them after they scored a touchdown. That was something – we didn't have that in high school. I was in the student section, so it was very energetic and nice to be around people."
Have you gotten homesick? Do you go home to Biloxi on the weekends?
"I work most weekends, so I don't go home often. It's good and bad. I get to see my family, but then I want to come back to campus."
---