Engineering South Spirit
---
Posted on October 14, 2021
Thomas Becnel
---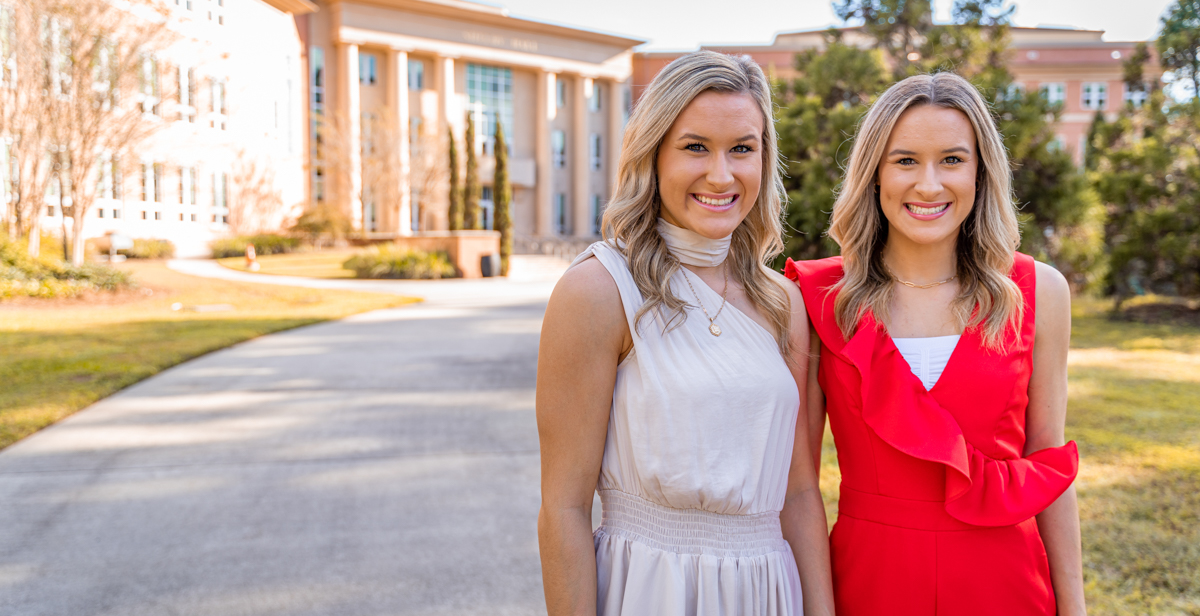 Logan, left, and Mallorie Collins, twin sisters from Satsuma, Alabama, share a residence hall suite, a major in mechanical engineering and a spirit for cheering on the Jaguars.
---
#FreshmanFocus is a series of stories on incoming students at the University of South Alabama.
Logan Collins is an inch taller than her twin sister. She's right-handed. And her hair is a little lighter and parted to the side.
Mallorie Collins has a dimple in her right cheek. She's left-handed. And her hair is a little darker and parted down the middle.
People at the University of South Alabama still can't tell them apart. They get their names wrong half the time. Part of the confusion is that the sisters are almost always together.
The Collins twins live in the same residence hall suite. They're majoring in mechanical engineering and going to the same classes at the same times. They also start each other's stories and finish each other's sentences.
"When I got blood drawn," Mallorie said, "she passed out."
"We're very different," Logan said. "I like to be on time, and she's always running late. My room is really neat –"
"And my room is a wreck," Mallorie said. "Completely different."
Except when they're the same.
"We think so much alike — we'll say the same thing at the same time, all the time," Mallorie said. "We used to wear the same clothes, but different colors. We didn't want to match, but we liked the same things."
Both of them have been competitive cheerleaders since they were 4 years old. At Satsuma High School, they were both honor students who enjoyed math and science. They both decided to attend South, live on campus, major in engineering, try out for the cheerleading squad, and rush the same sorority, Alpha Omicron Pi.
"We're inseparable," Logan said. "Best friends," Mallorie said. "We do everything together," Logan said. "Together, the two of us," Mallorie said.
What's your favorite spot at South?
Mallorie: "The football stadium, for sure. That first game was very intense, the best ever." Logan: "We're from a really small school, so maybe 800 people would come to our games. Out here, knowing there were 20,000 people watching us, it was crazy. I was shaking."
Cheerleading can be a dangerous sport. Have you had many injuries?
Mallorie: "Once, years ago, I was doing a standing back tuck — Logan was spotting me — and I broke my left pinkie. It plunged right into the ground." Logan: "I was not doing my job."
Any hidden talents?
Logan: "I can play the guitar a little bit. I know two songs." Mallorie: "She can play 'Sweet Home Alabama' and 'Tennessee Whiskey' by Chris Stapleton.'" Logan: "I like to think I can sing, but I can't." Mallorie: "No, she can't."
How did you choose mechanical engineering?
"Mallorie: "I thought about doing math and becoming a teacher and a cheerleading coach." Logan: "Figuring out math problems, or physics problems, that's what I enjoy. But I wanted to do more than math. Maybe design things, or make the world a better place."
How often do you go home to Satsuma?
Logan: "When we can, my dad cooks for us." "Mallorie: "That's the reason we go home." Logan: "He's the best cook in the world." Mallorie: "It's true."
You said you're 'very country.' How so?
Logan: "We like country music, and we go hunting and fishing. My first deer, I killed him when I was 7 years old. He was a five-point deer." Mallorie: "It was a four-point. That fifth point was this tiny little thing." Logan: "But it still counts."
What about going to Mobile?
Mallorie: "We all like to go downtown and get something to eat. We ride scooters and get beignets. We love beignets."
What's your social media presence?
Logan: "I'm on TikTok, and I dance and cheer. I've got 19,000 followers." Mallorie: "She always wants me to make TikTok videos with her. Every day, she's like, 'Come dance with me.'"
---