Down to Earth: Freshman Plans for Field Work, Ph.D.
---
Posted on October 26, 2021
Thomas Becnel
---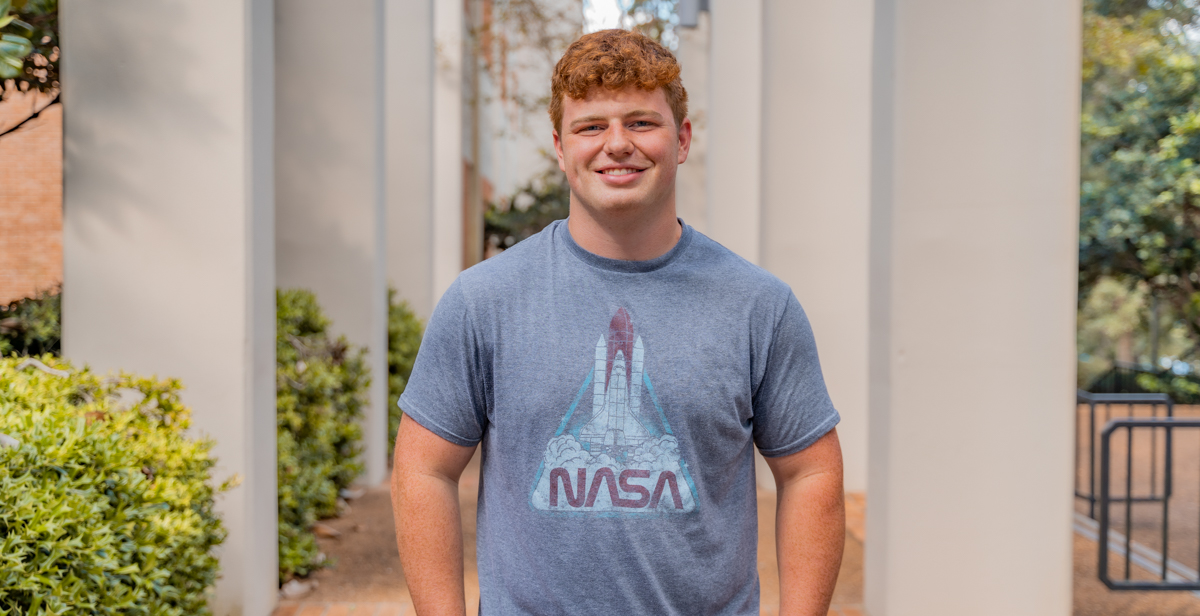 Cooper Forsyth, a geology major from McCalla, Alabama, has plans to go to graduate school and earn a Ph.D. Field research and travel pique his interest.
---
#FreshmanFocus is a series of stories on incoming students at the University of South Alabama.
After graduating from Hueytown High School, just outside Birmingham, Cooper Forsyth spent a year going to community college and working with his dad in construction.
He had thought about becoming a physical therapist, but outdoor work agreed with him. That's what he learned during his gap year.
"Working inside all the time, I don't think I could do it," he said. "With that job, sometimes we'd be inside, sometimes we'd be outside, and most of the time outside it'd be a nice day. Of course, you'd have the jobs where it'd be 107 degrees, pressure-washing a house, or sub-freezing temperatures, trying to paint an old couple's cabinet doors. But then you'd have the days that were really nice, and I can't see myself throwing those away being inside."
Forsyth decided to study earth sciences and enrolled at the University of South Alabama. He's a geology student, minoring in chemistry, with plans for going to graduate school and earning a Ph.D. He thinks he would enjoy travel and field research.
At South, he's met people through Spectrum, the campus LGBTQ organization. The fall calendar includes everything from Queer & Crafty bake sales to a Hallowqueen costume party. For Forsyth, it all began with a monthly meeting of the student group.
"I had friends back home who encouraged me to go, and I'm so glad I did," he said. "Everyone was so nice. These have been some of the best friends I've ever met."
Forsyth, who has red hair and freckles, stands 6 feet tall and weighs 240 pounds. He wrestled for his high school. During his free time, he likes to play video games and work out at the Student Recreation Center.
At his apartment complex just off the South campus, he does groundskeeping work in exchange for a discount on his rent. Hurricane Ida knocked down some branches, but nothing he couldn't handle.
"It wasn't too bad," he said. "It was worse before the storm than after the storm."
Have you been back home yet? Are you homesick?
"Honestly, I haven't been homesick at all. It's nice to be on my own. If I had to pick something that I miss, it would be hanging around with my friends back home."
Did training for wrestling in high school teach you anything?
"Sometimes, you're going to have to go through a lot of pain to get where you want to be. So long as you put in the effort, you'll get the results you want."
After a year off of school, full-time, was it hard to head back to class?
"Not really. When I came back to in-person classes, it was just like high school. And if I'm paying for something, I'm definitely going to class."
Your mom's a first-grade teacher. Did she have advice for you starting college?
"She didn't. But she always went out of her way, after getting home from teaching her students, to make sure she taught us, too, which I always appreciated. My sister was the one who gave me a lot of advice, because she just graduated from college."
What did she have to say?
"Change the way that you dress, and your haircut," he said, laughing, "and you should be fine."
What's your favorite spot so far on campus?
"Right now, my favorite spot is right outside the humanities building. It's a very old building, or it looks that way, and the trees are overhanging everything."
Have you discovered much of Mobile?
"Not really. So anywhere I go is a discovery."
---