Fresh Start: Charbel Mawad Finds New Interests in Campus Life
---
Posted on November 9, 2021
Thomas Becnel
---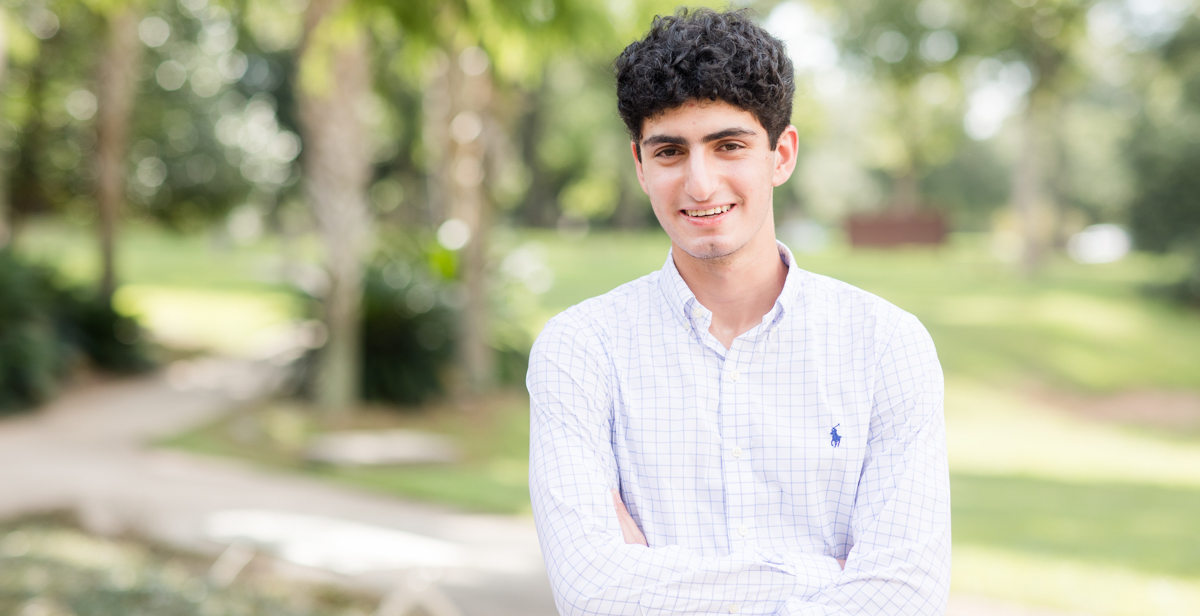 Charbel Mawad is majoring in accounting in the Mitchell College of Business.
---
#FreshmanFocus is a series of stories on incoming students at the University of South Alabama.
At McGill-Toolen Catholic High School in Mobile, Charbel Mawad excelled academically — he was selected as a Mitchell Scholar at the University of South Alabama — but he wasn't involved in many clubs or activities.
"I'm trying to change that here at South," he said. "I want to participate more."
A friend suggested that Mawad apply for the First Year Council. He was accepted. Now he finds himself serving on committees and volunteering for charity events such as Mega Musical Chairs, sponsored by Alpha Epsilon Delta, the health preprofessional honor society and one of the largest student organizations on campus.
"We had to referee the Musical Chairs," he said. "It was pretty hectic, with everyone running around. It was pretty fun."
Mawad lives at home in West Mobile and has a short commute to campus. His self-development plan includes working out, learning to cook and finding more time to read. Then there's writing computer code.
"I want to learn a language," he said. "Like C++ or Python."
In the Mitchell College of Business, where Mawad majors in accounting, students and professors know his older sister, who is a senior studying finance. "Oh, you're Leia's little brother," he hears. He's also known as a Mitchell Scholar, which includes a leadership program, business internship and work with a faculty mentor.
"Now I know a lot more about it," Mawad said. "It helps you focus and move forward. It's a big deal."
At South, he plans to join the Collegiate Entrepreneurs' Organization. One day, he'd like to start his own business. Real estate is one of his interests. Or he might go to law school.
Mawad is from a Lebanese-American family in Mobile. Its roots in the United States include a connection to the University of South Alabama.
"I think one of my uncles first came here," he said, "to study engineering at South."
How often do you see McGill-Toolen classmates on the South campus?
"Once every couple of days. We're pretty close. If we see one another, we'll wave and talk."
Are you into pop culture? Are you a movie guy or music guy?
"I listen to a lot of alternative rock. Groups like Cage the Elephant. I got into them during quarantine. And I'm watching 'Squid Game.' I've seen all the memes."
Do you have any secret talents?
"I'm really, really, really good at foosball. We got a table awhile back."
Where is your family from in Lebanon?
"We come from a village called Ghosta, northeast of Beirut. We go there every summer. It's a small village, maybe 2,000 people — small enough for everyone to know everyone else. Every time we go, they call me 'The American.'"
Do you speak Arabic?
"I speak Arabic and French. My Arabic is better, but I do plan on taking French for my foreign language at South."
You're a Mitchell Scholar. Have you met Abe Mitchell?
"Yes, he came in and talked to us. He was friendlier than I thought he'd be, and obviously very generous. I'd aspire to be like him."
What's your strategy for scheduling classes? Morning or afternoon?
"All of my classes are in the morning. It motivates me to get up early. If my classes were in the afternoon, I'd get up really late. If I have enough of a gap between classes, I'll go home and grab a snack. After my classes, I'll go to the gym or to the library. I usually go to the fourth floor and sit in front of the windows."
---