Majors and Minors Home
About the Major
The English major has three tracks focusing on critical, creative and technical writing. Whether they study literature, create poems and stories, or master the writing of workplaces, all majors become experts in the language, able to appreciate, analyze and produce texts that others will want to read.
Jobs in English
Educator
Media professional
Marketer
Lawyer
Technical writer
Related Programs
'Rule Breaking' Made Student a Fan of Poetry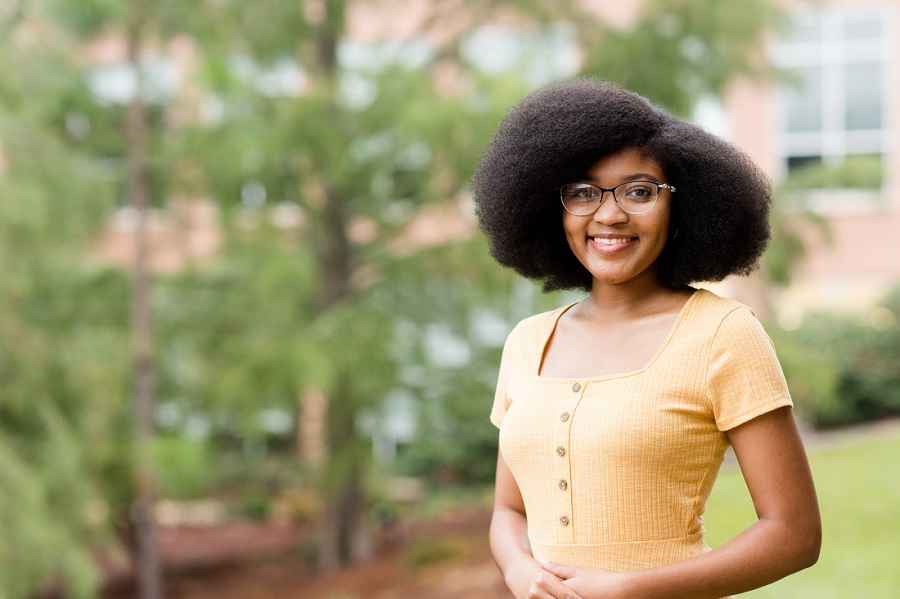 Of all her experiences at the University of South Alabama, Kelsi Fails' introductory class in poetry writing surprised her the most. "I haven't always been a fan of poetry, but having the space to experiment with writing in a way that encourages a little bit of rule breaking here and there was really refreshing."
USA expanded her horizons in other ways as well. "Attending South has been pretty enlightening in terms of having the opportunities to meet and collaborate with so many people of different backgrounds."
Fails herself came from modest circumstances in Selma, Alabama. "Unlike many of my peers, I didn't grow up having unlimited access to Wi-Fi my entire life. People find that shocking, but I come from a rural area."
She originally planned to study radiologic sciences. "I wound up changing to English before the end of freshman year because I realized that I preferred to study something that I had been passionate about my entire life."
"I just want to share all the joy that I've experienced in learning with as many people as possible."
Supporting that same passion for reading and language in others, perhaps as a librarian, became her new career goal. "I just want to share all the joy that I've experienced in learning with as many people as possible."
Studying such contemporary books as "The Underground Railroad" by Colson Whitehead, "Citizen: An American Lyric" by Claudia Rankine and "Bitter in the Mouth" by Monique Truong inspired her.
"I think the best thing about my intro to literary study course was being able to focus on authors of color. It's important to learn about contemporary authors and their voices, and authors who are not always amplified the way that other authors are."
She appreciates Shakespeare and other great writers of the traditional canon, "but you can't just say, OK, that's enough. Because it's not. It's never enough. There's no such thing as enough."
Did You Know?
---
Students have the option of a concentration in creative writing, which offers workshops along with special and topics classes across genres.
A new concentration in professional writing and editing is designed for students who wish to major in English and study literature while also acquiring specific job skills in professional writing and editing.
Guest writer appearances through the Stokes Center for Creative Writing and other extracurricular events bring students a wide variety of perspectives.
Contact:
Dr. Patrick Cesarini
Associate Professor, Undergraduate Coordinator
Department of English
(251) 460-7835
Curriculum and Degree Requirements