2023 Foodways Symposium
The Down the Bay Oral History Team is celebrating foodways, past and present, with a visit from Oral Historian Andre Taylor. Join us March 30-April 1 to share in our history of food!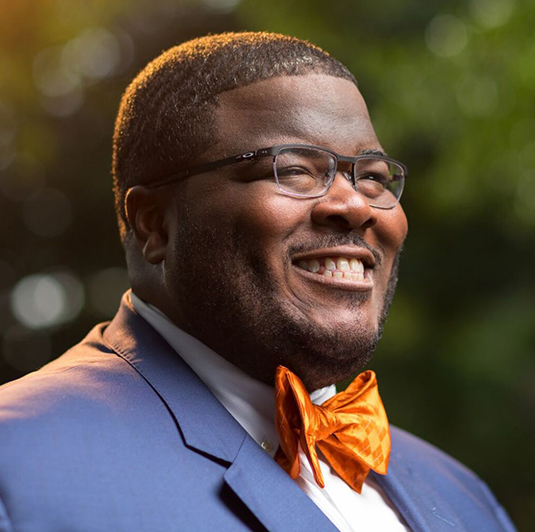 Andre Taylor is the oral historian at William & Mary. Andre earned a Bachelor of Arts in history from NC
A&T, a Master of Arts in public history from NC State University, and he's currently working on his PhD
in American Studies at William & Mary. His research project, Black Folk and our Food, focuses on
conducting oral histories with Blacks while they're preparing a dish from an unwritten, family recipe. All
the while, Andre is not only focused on the recipe, but the history simultaneously being shared. Andre is
heavily involved with his fraternity, Alpha Phi Alpha Fraternity, Inc., serving as both his chapter and
district historian.

Thursday, March 30 at 3:30 - Join Oral Historian Andre Taylor for his talk "What Momma Passed to Me:
Black Food as Memory and History" in the Marx Library Rodning Gallery. This event is free and open to
the public. Refreshments will be served.
The Marx Library is located at 5901 USA Drive North, and the Rodning Gallery is on the 3 rd floor of the
library.
Friday, March 31: Andre Taylor will interview Down the Bay community members about their unwritten
recipes and food traditions to add to our public archive at the McCall Library. If you're interested in
sharing your memories of Down the Bay, food-related or otherwise, contact the McCall Library at (251)
341-3900 or oralhistory@southalabama.edu for more information.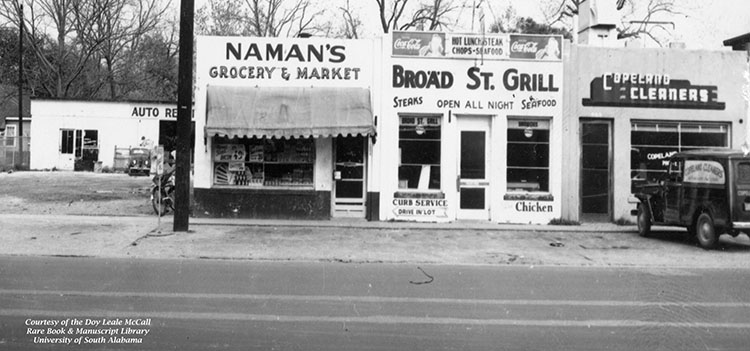 Photo of Naman's Grocery, Broad Street Grill, and Copeland Cleaners. Courtesy of the Doy Leale McCall
Rare Book and Manuscript Library, University of South Alabama.
Saturday, April 1 from 10 am-2 pm - Visit us at the Down the Bay: Food and Photos Day at the James
Seals Jr. Recreation Center. We will share historic photos from the McCall Library, memories of food
from the Down the Bay Oral History Project, and artifacts from the I-10 Mobile River Bridge Archaeology
Project.
Oral Historian Andre Taylor will share his work about memory and food. This event is free and lunch will
be provided. The James Seals Jr. Recreation Center is located at 540 Texas Street.
This symposium is part of the Down the Bay Oral History Project, a partnership between the Center for
Archaeological Studies, the Doy Leale McCall Rare Book and Manuscript Library, and the African American Studies
Program.