USA-Phi Sigma Iota Merit Scholarship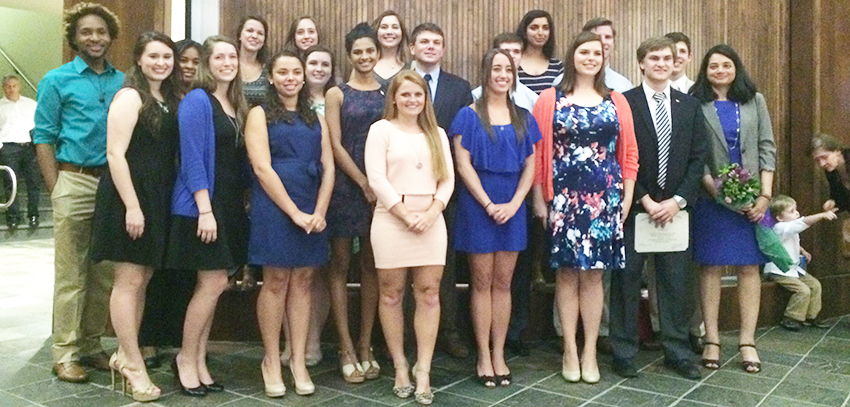 The USA Phi Sigma Iota Scholarship
Each year, our chapter awards one merit scholarship of approximately $1,000 to a deserving PSI member who excels in foreign languages and demonstrates leadership in promoting languages, inter-cultural dialogue and international awareness on campus and in the larger Mobile community.
Eligibility Criteria:
Active member of the USA-PSI chapter.
Excellent academic record, a GPA of at least 3.15
Outstanding record in the target language of study, a GPA of at least 3. 30 in language courses.
Demonstration of outstanding leadership and participation in PSI chapter activities to promote languages on campus and in the Mobile community.
Application Process
Submit the following by email to Dr. Zoya Khan (zkhan@southalabama) no later than February 15:
1. a resume listing your overall GPA, your language GPA, PSI activities you have organized or participated in and other foreign language-related activities you are involved with.
2. a personal statement written in English, and outlining your qualifications for the award, your future goals, and how your preparation in languages and participation in the Phi Sigma Iota equips you to achieve these goals.
---
History of the USA-PSI Chapter Scholarship
In early spring 2015, the students and advisor of the USA chapter of Phi Sigma Iota (PSI) raised funds to endow an undergraduate scholarship to be awarded to a meritorious member of USA's PSI chapter.
PSI is the second student organization (after "Students Today, Alums Tomorrow") to endow a chapter scholarship on campus through the Mitchell-Moulton Scholarship Initiative. The USA's chapter is also only the second PSI chapter nationally to set up its own chapter scholarship (the chapter at Rutgers University has also done this).
People from all walks of life and backgrounds helped to make this scholarship a reality. PSI is proud that the fundraising effort allowed us to promote the mission of USA, the College of Arts & Sciences, and the Department of Modern and Classical Languages. The journey from the idea for a scholarship to formulating it as a goal, and finally to this moment of having the scholarship established shows that it takes a city to turn our shared goals into concrete realities.