Early Childhood Education M.Ed. (Online)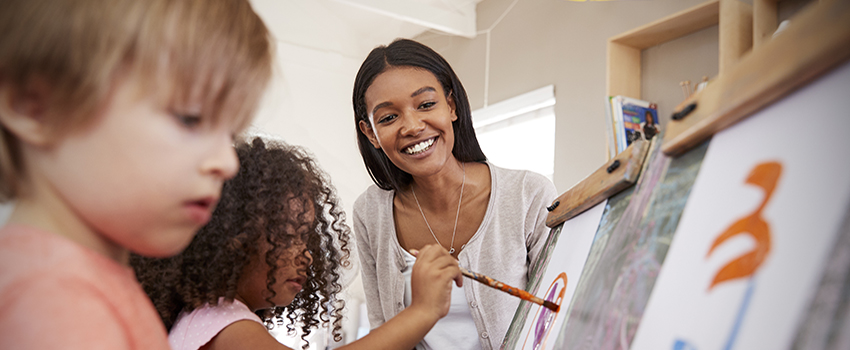 The Master of Education in Early Childhood Education is a 30-hour fully online program that provides advanced study for teachers who already hold the Class B Professional Early Childhood Certification. Upon completion of the program, students are eligible for the Class A Professional Early Childhood Education (P-3) certification, which is a requirement for those intending to work in grades PreK-3 in public elementary schools.
Completion Options
Students can start any semester and have the opportunity to complete the 30-hour master's program in a one to two year time frame.
Program Overview
Early childhood educators make a profound impact on children's lives. The first years of life create the foundation for a child's health, emotional well being, and intellectual growth. Providing high-quality early care and education is critically important to enable children to learn and ensure that they reach their full potential. South's Early Childhood Education graduate program is designed to provide in-depth knowledge of child development, childhood learning and teaching skills for young children ages four through eight.
▼ Admission Requirements
A bachelor's degree from an accredited institution of higher education.

*USA students applying to a USA graduate program in the College of Education and Professional Studies should complete a transcript request form (PDF) found on the University Registrar's Office website.

In the Name/Organization field for the transcript recipient write, "USA Graduate School". There is no charge associated with this request. This option applies only to USA transcripts for students applying to USA graduate programs.
GPA Requirement: A minimum overall grade-point-average (GPA) of 2.5 on a 4.0 scale based on the GPA used as the basis for granting the degree and posted on the official transcript from a regionally accredited institution at the time the degree was earned

OR

a 2.5 GPA on the last 60 semester hours of undergraduate course work posted on the official transcript from a regionally accredited institution at the time the degree was earned. F

GPA Exception: Individuals who have earned a bachelor 's degree from a regionally accredited institution at the time the degree was earned and who do not have a qualifying GPA for admission may seek admission based on a qualifying score of the Graduate Record Examination (GRE) or the Miller Analogies Test (MAT). For the GRE, this standard is defined as having a score at the 50th percentile on all of the following subtests: Verbal Reasoning, Quantitative Reasoning, and Analytical Writing. For the Miller Analogies Test, students must have a score at or above the 50th percentile based on the total group percentile rank score. For Alternative Class A programs, applicants must submit a qualifying alternate score on the Alabama-prescribed Praxis subject-area test.
A valid bachelor's-level Class B Professional Educator Certificate in the same teaching field in which the Class A Professional Educator Certificate is sought.


Personal statement on applicant's career goals and purpose for graduate study.
Academic Advisor
Dr. Hannah Szatkowski
Ph: (251) 380-3858
hdszatkowski@southalabama.edu