Teacher Leader Ed.S. (Online)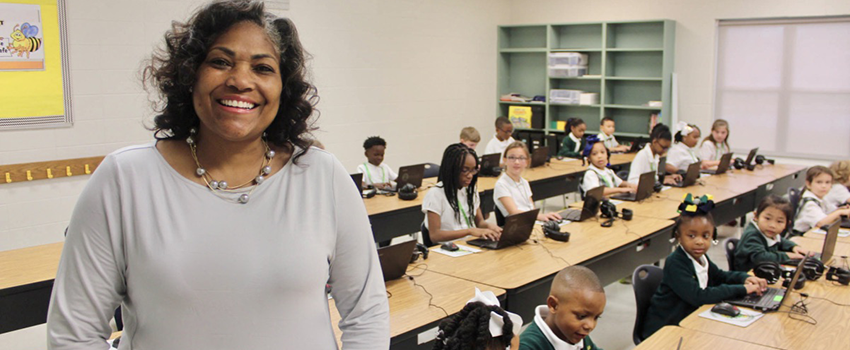 To realize the mission of enhancing school leadership among teacher leaders resulting in the improvement of academic achievement for all students, prospective teacher leaders will achieve the standards below. It should be assumed that the prospective teacher leader will have opportunities to work collaboratively with school administrators, colleagues, students, parents and families, and the larger community to achieve school-wide goals.
Program content should be primarily focused on supporting the development and improving the practice of shared leadership.
All candidates should understand and be able to support leadership that is shared with all stakeholders to increase student learning.
All candidates must support the concept and the practice of collective learning with faculties and schools.
Educational Specialist with Class AA Certification
The Teacher Leader program is designed to provide candidates with the opportunity to develop as a teacher leader. Successful completion of the program leads to the Ed.S. degree and qualifies the candidate for recommendation for the class "AA" Professional Educator Certificate as a Teacher Leader.
Advanced programs are extensions of basic preparation and differ from basic programs not in general purpose but in competence they seek to develop.
Note: You must have certification in any program at the "A" level in order to be admitted into this program.
Click the links on the left-side menu for more information on earning the credentials to become a Teacher Leader!
▼ Admission Requirements
Master's degree from a regionally accredited institution with a minimum GPA of 3.0 on a 4.0 scale.

*USA students applying to a USA graduate program in the College of Education and Professional Studies should complete a transcript request form (PDF) found on the University Registrar's Office website.

In the Name/Organization field for the transcript recipient write, "USA Graduate School". There is no charge associated with this request. This option applies only to USA transcripts for students applying to USA graduate programs.
A valid master's-level professional educator certificate in any teaching field or area of instructional support.
A minimum of three full years of full-time teaching experience in a P-12 setting. Must be documented on Supplemental Experience Form (PDF) that should be requested from Human Resources in your past/present employing school system.

Mail Supplemental Experience Form to:
University of South Alabama
College of Education and Professional Studies
Attn: Olivia Logan - UCOM 3360
75 S. University Blvd.
Mobile, AL 36688-0002


Three letters of recommendation which include evidence of ability to positively affect student achievement, and evidence of collaborative leadership potential.
Two-page narrative on applicant's career goals and purpose for graduate study (uploaded within application).
Faculty Advisor
Karen Morrison, Ph.D.
Assistant Professor
Department of Leadership and Teacher Education
College of Education and Professional Studies
(251) 380-2650
karenmorrison@southalabama.edu