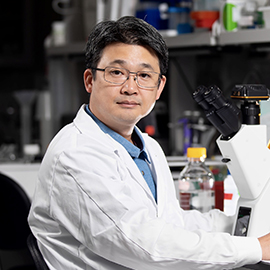 Jin Hyun Kim, DVM, PhD
Assistant Professor Department of Microbiology and Immunology

---
Biography
Dr. Jin Hyun Kim was appointed Assistant Professor of Microbiology and Immunology at the University of South Alabama College of Medicine. Prior to his appointment at USA, Dr. Kim served as an associate research biologist in drug development at Southern Research in Birmingham, AL where he extended his experience to support human clinical trials for new vaccines against influenza under Good Laboratory Practice (GLP) regulations.
Dr. Kim earned his Doctor of Veterinary Medicine degree and his master's degree in veterinary pathology from Konkuk University in Seoul, South Korea. He earned his doctor of philosophy degree in virology in Dr. Kawaoka's lab at the University of Wisconsin-Madison where he studied the molecular mechanisms of how highly pathogenic avian H5N1 influenza virus adapts to humans using model systems. He also completed a post-doctoral research training program at the College of Pharmacy at the University of Michigan, Ann Arbor where he studied HIV-1 infection of CD4+ T cells and quantified functional envelope glycoproteins on the surface of a single HIV-1 virion. Results from these studies supported HIV-1 vaccine development efforts.
---
Research
Influenza Virus Vaccine
Dr. Kim's current research interests focus on understanding the packaging and transmission mechanism of the influenza virus by molecular virological techniques and animal models.
Influenza viruses can mix their genetic materials and make brand new ones, an example of such a case being the last 2010 swine flu pandemic. Dr. Kim is interested in understanding how influenza viruses can do this. His ultimate goal is to develop an antiviral drug to block it. He envisions that influenza viruses are less likely to tolerate and resist such a target.

Additionally, a bioluminescent influenza virus was generated recently in his lab, which allows the growth of the virus to be traced in real-time mode in animal models. He plans to utilize it for pathological and immunological research and ultimately apply it in translational research for developing a universal influenza vaccine.
COVID-19 Asymptomatic Infections
Among COVID-19 patients, about 30-40 percent of people didn't even know they caught COVID-19, but they were still spreading the virus. These cases are called asymptomatic infections, and how it happens is still unclear. In his lab, Dr. Kim is investigating the mechanism behind it.
---