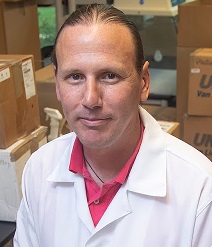 Kevin R. Macaluso, PhD
Professor and Chair Microbiology and Immunology

---
Biography
Dr. Kevin R. Macaluso, Chair of the Department of Microbiology and Immunology, received his Baccalaureate Degree from Colorado State University, his Master's Degree from Sul Ross State University, and his Ph.D. from Oklahoma State University.
Before becoming Locke Distinguished Chair in the Department of Microbiology and Immunology, Dr. Macaluso was the Mary Louise Martin Professor in the Department of Pathobiological Sciences at Louisiana State University (LSU) in Baton Rouge, Louisiana.
---
Research
Vector-borne Disease and Rickettsiology
Vector-borne diseases are major causes of death and illness worldwide and a large and growing public health problem in the United States. The Macaluso lab employs biologically relevant host/vector/pathogen systems to investigate the determinants of pathogen transmission and subsequent disease.
Rickettsial Transmission via Blood-Feeding Arthropods
The research of the Macaluso lab group encompasses the molecular and biological mechanisms central to rickettsial transmission by blood-feeding arthropods. In the laboratory, they have established two unique systems consisting of slow- and fast-feeding vectors with which to study rickettsial transmission. The first line of research is directed at deciphering the molecular mechanisms associated with Rickettsia infection of ticks and how both tick- and bacterial-derived factors mediate infection.
Ongoing research activities in this area are supported by the NIH/NIAID and emphasize the roles of microbial determinants in successful vector infection. Specifically, Dr. Macaluso and his team are working to define the contribution of conserved surface cell antigens (Sca) to SFG Rickettsia infection of the tick vector. Sca proteins are essential to rickettsial infection and dissemination in vertebrate cells. They hypothesize that there will be a distinct profile of rickettsial proteins necessary for infection in the arthropod vector. The objective of their studies is to define the role for rickettsial proteins during the infection process in the tick host through targeted mutagenesis in rickettsial species and analysis of isogenic rickettsial mutants in tick cell interactions in vitro and in vivo.
Additionally, they are investigating how the tick immune response to SFG Rickettsia correlates to vector competence. A differential tick response to individual species of SFG Rickettsia supports a species-specific host response to rickettsial infection. Therefore, they hypothesize that a central molecule, Relish, is responsible for the balance between successful rickettsial colonization and clearance from the arthropod host. Current experiments aim to delineate the IMD immune signaling system focusing on the production of active Relish in the tick host. They are also working to determine if differential responses and downstream effectors play a role in successful rickettsial colonization of the tick host.
A major goal of Dr. Macaluso's research is to provide a better understanding of the constituents of rickettsial transmission and maintenance in arthropod vectors. Ultimately, appreciation of the biology of transmission will lead to the identification of novel points of intervention.
See More
---