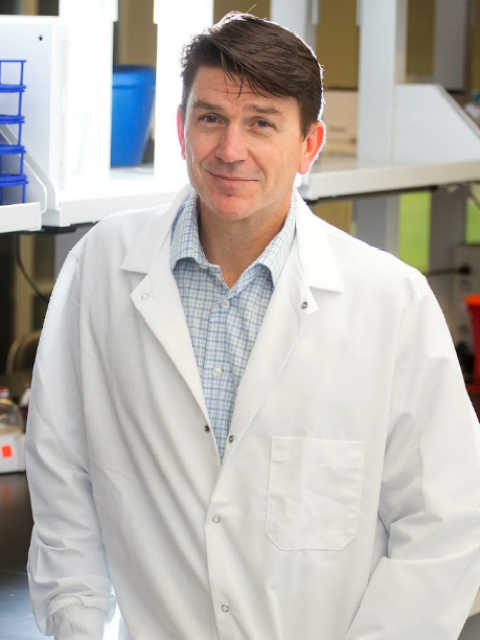 Jonathan O. Rayner, PhD
Assistant Professor, Director of the Laboratory of Infectious Diseases Department of Microbiology and Immunology

---
Biography
Dr. Rayner received his Ph.D. in Microbiology at Colorado State University (CSU) in 1998 as part of the Arthropod-borne and Infectious Diseases Laboratory where he studied the factors influencing vector-competence for yellow fever virus and dengue viruses (DENV). He then completed two post-doctoral research programs with the American Society for Microbiology/National Centers for Infectious Diseases at the Centers for Disease Control and Prevention (CDC), Division of Arthropod-borne Infectious Diseases and the National Research Council at the United States Army Medical Research Institute of Infectious Diseases. Dr. Rayner continued his research in the private sector before joining academia at USA and becoming the director of the Laboratory of Infectious Diseases (LID).
---
Research

Virology: Alphaviruses, Flaviviruses, and Coronavirus
Since joining the USA in 2016, Dr. Rayner's research has focused on studying the pathogenesis of emerging and re-emerging viral pathogens in small animal models and evaluation of potentially broad spectrum antivirals. As the Director of the Laboratory of Infectious Diseases (LID) at the USA and Responsible Official for the Select Agent Program, Dr. Rayner has utilized his previous experience in industry to establish laboratory procedures that will support both in vitro and in vivo preclinical efficacy studies as well as to ensure adherence to the select agent rules and regulations when they apply.
Alphaviruses (Eastern equine encephalitis virus [EEEV], Venezuelan equine encephalitis virus [VEEV], Chikungunya virus) and Flaviviruses (Zika virus, Dengue virus, West Nile virus)
The LID is a state of the art research facility with biosafety level (BSL) 2 and 3, animal biosafety level (ABSL) 3, and arthropod containment level (ACL) 3 laboratories for work with important human pathogens. Specific research has focused on the development of immunocompetent mouse models of Chikungunya and Zika virus infection that appropriately consider sex as a biological variable and utilization of these models to evaluate broad spectrum antiviral therapeutics and next generation vaccine platforms.
In collaboration with the Biology Department in the College of Arts and Sciences, Dr. Rayner is also supporting mosquito and tick-borne infectious disease surveillance efforts in the state of Alabama to better inform public health departments and clinicians on the risk of human exposure to arthropod-borne infectious diseases. This research is being extended in collaboration with the South Eastern Center of Excellence in Vector-borne Diseases to support tick-borne infectious disease surveillance efforts in neighboring states.
Coronavirus (SARS-CoV-2)
Since the beginning of the COVID-19 pandemic, Dr. Rayner and colleagues have been studying SARS-CoV-2 virus, including isolation and characterization of genetic variants from patients both in tissue culture cells and in hamsters, evaluation of disinfectants, and antiviral drug discovery and development. In establishing the hamster model of SARS-CoV-2 virus infection, interesting gender differences were observed, and gender as a biological variable in virus infections continues to be of significant interest in Dr. Rayner's future research plans.
---