Victor Solodushko, Ph.D.
Associate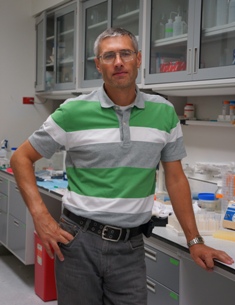 Professor
USA Department of Pharmacology
Ph.D.: Kiev State University
Post-doctoral: University of South Alabama
Phone: (251) 460-7489
vsolodushko@southalabama.edu
Research Interests
Although current therapies for chronic pulmonary hypertension have improved patient survival, the long-term outcome from this disease remains unfavorable. Recently researchers have focused on endothelial progenitor cells as a potential treatment for this disease. We propose that inducible pluripotent stem cells, obtained by reprogramming the host's own easily accessible somatic cells, are a promising and novel source of endothelial progenitor cells that can be used for the treatment of pulmonary hypertension. Dr. Solodushko designs removable transposon-viral hybrid vectors to generate endothelial progenitor cells from somatic cells and test their therapeutic potential in animals and humans. Dr. Solodushko is also working on developing of new transposon-based vectors, alternative approach to viral and naked plasmid delivery of nucleic acids.
Representative Publications
Solodushko V. and Fouty B. Book chapter: The Glucocorticoid Receptor in Retroviral Infection. Viral Gene Therapy. InTech. ISBN 978-953-307-539-6, pp73-88, 2011
Solodushko, V., D. F. Alvarez, R. Viator, T. Messerall and B. Fouty. Heterogeneous activation of p19Arf in pulmonary artery smooth muscle cells. Am J Physiol Lung Cell Mol Physiol. 300, L642-7, 2011
Solodushko, V. and B. Fouty Mifepristone increases gamma-retroviral infection efficiency by enhancing the integration of virus into the genome of infected cells. Gene Ther. 17, 1253-61, 2010
Solodushko V, Bitko V, Fouty B. Dexamethasone and mifepristone increase retroviral infectivity through different mechanisms. Am J Physiol Lung Cell Mol Physiol; 297: L538-545, 2009
Solodushko V, Parker JC, Fouty B. Pulmonary microvascular endothelial cells form a tighter monolayer when grown in chronic hypoxia. Am J Respir Cell Mol Biol ; 38: 491-497, 2008
Solodushko, V. & Fouty, B.W. Pro-Proliferative Phenotype of Pulmonary Microvascular Endothelial Cells. Am J Physiol Lung Cell Mol Physiol 292:L671-L677, 2007
Fenik, S., Solodushko, V., Kaliniak, T., Blium Y. The role of Cd-binding proteins and phytochelatins in the formation of cadmium resistance in Nicotiana plumbaginifolia cell lines. Tsitol Genet 41:9-15, 2007
Fouty, B., Moss, T., Solodushko, V. & Kraft, M. Dexamethasone can stimulate G1-S phase transition in human airway fibroblasts in asthma. Eur Respir J 27, 1160-7, 2006
Aurelio Lorico, Daniel Bratbak, Johann Meyer, David Kunke, Stefan Krauss, Walter E. Plott, Viktor Solodushko, Christopher Baum, Oystein Fodstad, Germana Rappa. -Glutamylcysteine Synthetase and L-Buthionine-(S,R)-Sulfoximine: A New Selection Strategy for Gene-Transduced Neural and Hematopoietic Stem/Progenitor Cells. Human Gene Therapy. Vol. 16, No. 6: 711-724, 2005
Gard, A.L., Gavin, E., Solodushko, V., and Pennica, D. Cardiotrophin-1 in choroid plexus and the cerebrospinal fluid circulatory system. Neuroscience 127:43–52, 2004
Gard, A.L., Solodushko, V.G., Waeg, G., Majic, T. 4-Hydroxynonenal, a lipid peroxidation byproduct of spinal cord injury, is cytotoxic for oligodendrocyte progenitors and inhibits their responsiveness to PDGF. Microsc. Res. Tech. 52:709-718, 2001
Yemets A.I., Kundel'chuk O.P., Smertenko A.P., Solodushko, V.G., Rudas V.A., Gleba Y.Y., Blume Y.B. Transfer of amiprophosmethyl resistance from a Nicotiana plumbaginifolia mutant by somatic hybridization. Theoretical and Applied Genetics (Germany), 100:847-857, 2000
Blume, Y.B., Strashnyuk, N.M., Smertenko, A.P., Solodushko, V.G., Sidorov, V.A., Gleba, Y.Y. Alteration of b-tubulin in Nicotiana plumbaginifolia confers resistant to amiprophos-methyl. Theor. And Appl. Genetics (Germany), 97:464-472, 1998
Solodushko, V.G., Blume, Y.B. Changes of tubulin GTPase activity in plants resistant to herbicides. Proc. Natl. Acad. Sci. 10:84-87, 1997
Solodushko, V.G., Blume, Y.B. Nicotiana plumbaginifolia resistance to amiprophosmethyl and trifluralin with decreased affinity of their tubulin to the herbicides. Proc. Natl. Acad. Sci. 10:13-19, 1997