How to Apply

PhD Admission Requirements
A completed MBA from an accredited program or Specialized Master's degree in a business field from an accredited school
A minimum of five years of professional business or teaching experience
Complete USA Graduate School Application
Send official transcripts
Send current CV/resume
Mail 3 letters of reference
GMAT score is not required
Completion of a writing assignment using resources from the writing workshop: See below
Completion of an interview with the Mitchell College of Business Ph.D. in Business Administration Admissions Committee
For additional program information please email mcobgraduate@southalabama.edu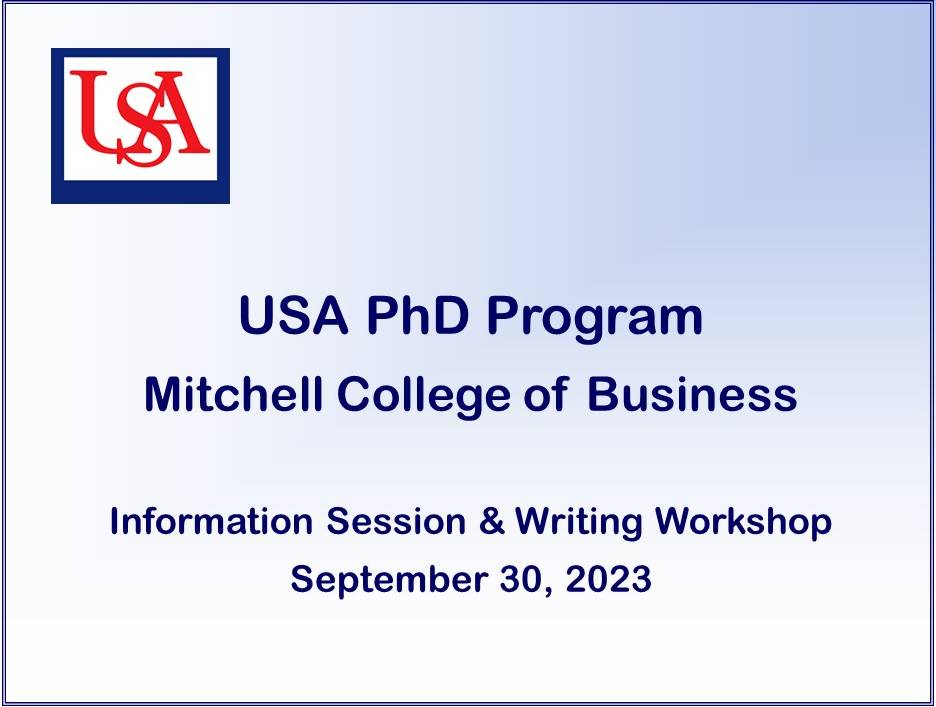 Find your direction. Learn more about how a Ph.D. in Business Administration can help you in your career. Hear from Ph.D. Director, Dr. Joe Hair and a panel of current Ph.D. students in various stages of the program. Contact Dr. Hair for more information: jhair@southalabama.edu
Writing Workshop
This essential workshop provides the requirements and resources needed to complete the writing assignment. This writing assignment is a required component of the application process. Contact Dr. Hair for more information: jhair@southalabama.edu
Applicants can view the writing workshop presentation for free, however, applicants will need to pay the $100 licensing fee to gain access to the materials needed to complete the assignment.
Purchase the Writing Assignment Materials
What to expect once you have purchased the writing workshop material: (prospective Ph.D. in Business Administration applicants):
Upon payment, applicants will receive an order confirmation in their email. To obtain access to the Ph.D. in Business Administration workshop files, applicants should forward this order confirmation to Lissa Williams (ldwillia@southalabama.edu), at the Mitchell College of Business. Applicants will receive access to a Google Drive folder that contains all of the Ph.D. in Business Administration Workshop files and a video from the workshop.
Please be aware that you will need to have a Gmail email account to access the files on Google Drive.
Qualified applicants will be invited to an admissions interview. Admissions into the program is subject to the approval of the Director of Graduate Studies and the Ph.D. in Business Administration admissions committee. For questions regarding your online admissions application, please contact University of South Alabama Customer Service at (857) 304-2084 Monday-Friday, 9:00 am – 5:00 pm Eastern Time, or email at southalabamainfo@liaisoncas.com.
Application Timeline
The application deadline is January 31st of each year. Applicants seeking financial aid may want to apply earlier to ensure sufficient time for processing. Applications will be reviewed from September 1 of each year. The first semester for each new cohort begins in May of each year.
Upon receipt of an acceptance letter, students must confirm enrollment and submit a non-refundable deposit for $2,500 within 45 days. The deposit is credited toward first semester tuition and fees.
International Student Requirements
International Students: As per the University Graduate School requirements, international students are required to score a minimum of (197) (71) on TOEFL or 6.0 or higher on IELTS. Additional Information regarding international student admissions can be found here.
Contact Information:
Dr. Joe Hair
Director, PhD in Business Administration Program
Cleverdon Chair of Business
Mobile, Alabama USA
Mitchell College of Business
(251) 460-6418 | (251) 460-6529 (fax)
jhair@southalabama.edu