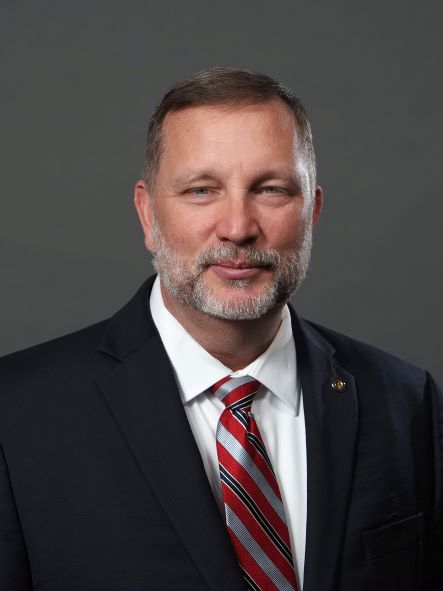 Dr. J. Todd McDonald
CFITS Director, Professor Computer Science Department

---
Education
Ph.D. in Computer Science, Florida State University, Tallahassee, FL (2006).

Master of Science in Engineering, Computer Engineering, Air Force Institute of Technology, WPAFB, OH (2000).

Masters of Business Administration, University of Phoenix, Nellis AFB Campus, NV (1996).

Bachelor of Science, Computer Science, U.S. Air Force Academy, Colorado Springs, CO (1990).
---
Research Interests
Software Protection and Assurance
Secure Software Engineering
Anomaly Detection
Surreptitious Software: Obfuscation, Watermarking,
Tamperproofing
Malware Analysis
Hardware Assurance
Embedded Systems / Mobile Device Security
Cyber Security
---
Teaching Experience
Courses Taught:
CSC 434 Formal Lang and Automata Theory, Spring 2022

CSC 527 Software Engineering Principles, Spring 2022

CSC 410/510 Compiler Design, Fall 2021

CSC 527 Software Engineering Principles, Spring 2021

CSC 450/550 Surreptitious Software, Spring 2019

CSC 527 Software Engineering Principles, Spring 2019

CSC 440 Secure Software Engineering, Fall 2018

CSC 410/510 Compiler Design, Fall 2018

CSC 450/550 Surreptitious Software, Spring 2018

CSC 527 Software Engineering Principles, Spring 2018

CSC 410/510 Compiler Design, Fall 2017

CSC 440 Secure Software Engineering, Fall 2017

CSC 490/590 Surreptitious Software, Spring 2017
CSC 527 Software Engineering Principles, Spring 2017
CSC 440 Secure Software Engineering, Fall 2016
CSC 410/510 Compiler Design, Fall 2016
CSC 490/590 Surreptitious Software, Spring 2016
CSC 527 Software Engineering Principles, Spring 2016
CSC 440 Secure Software Engineering, Fall 2015
CSC 410/510 Compiler Design, Fall 2015
CSC 494 Directed Study On Mobile Vulnerabilities, Fall 2015
CSC 527 Software Engineering Principles, Spring 2015
CSC 331 Software Engineering Principles, Spring 2015
CSC 494 Directed Study on Advanced Digital Logic, Spring 2015
CSC 594 Directed Study on Abstract Math in Security, Spring 2015
CSC 340 Secure Software Engineering, Fall 2014
CSC 410/510 Compiler Design and Construction, Fall 2014
CIS 497 Senior Project Mentor on JagTrack, Fall 2014
CSC 527 Software Engineering Principles, Spring 2014
CSC 331 Software Engineering Principles, Spring 2014
CIS 497 Senior Project Mentor on JagTrack, Spring 2014
CIS 497 Senior Project Mentor on Medical Device Security Testing, Spring 2014
CSC 340 Secure Software Engineering, Fall 2013
CSC 410/510 Compiler Design and Construction, Fall 2013
CSC 494/594 Directed Study on Cyber Crimes Challenge, Spring 2013
CSC 527 Software Engineering Principles, Spring 2013
CSC 331 Software Engineering Principles, Spring 2013
CSC 333 Programming Language Theory, Fall 2012
CSC 340 Secure Software Engineering, Fall 2012
CSC 527 Software Engineering Principles, Spring 2012
CSC 331 Software Engineering Principles, Spring 2012
CIS 594 Directed Study on Reverse Engineering Spring 2012
CIS 497 Senior Project Mentor on Malware Testbed Development, Spring 2012
CIS 497 Senior Project Mentor on Java Obfuscation Analysis, Spring 2012
CSC 333 Programming Language Theory, Fall 2011
CSC 490/590 Forensic Malware Analysis, Fall 2011