Faculty Information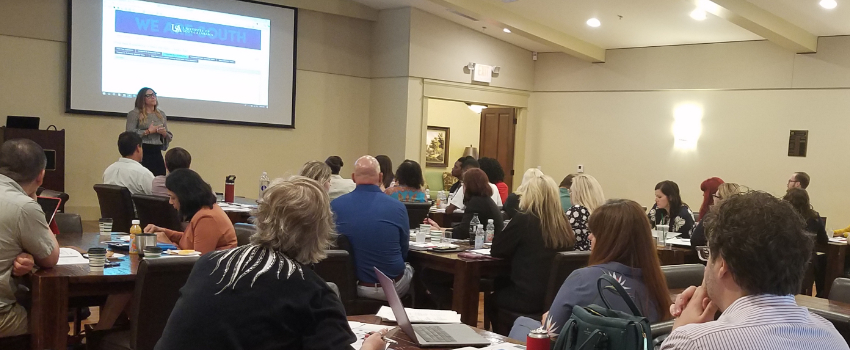 The Center for Academic Excellence works closely with faculty and staff members to support student success at USA. We partner with faculty and staff to:
Provide referrals for students who may benefit from subject tutoring or writing assistance.
Connect with students about available resources to enhance learning outside of the classroom.
Make recommendations for potential student tutoring staff.


Provide Students Information about CAE Services
Please share our flyer and other information with your students and colleagues! Click here to download a CAE flyer.
Add the Center for Academic Excellence To Your Syllabus
To ensure that students are aware of the Center for Academic Excellence, we recommend adding information to your syllabus and other course materials. Click here for a description of the Center for Academic Excellence that you may add to your syllabus.
Refer a Student to Tutoring or Writing Assistance
Know a student who could use additional support to enrich their learning at South? Please provide them with our website link: www.southalabama.edu/cae.
Also, students may email the Center for Academic Excellence at cae@southalabama.edu or call us at (251) 460-6480 and we will gladly help them set up an appointment for subject tutoring or a writing consultation.
Direct Students to the CAE's Online Academic Workshops
The CAE offers 20 online academic success workshops, which cover online learning techniques, tools for maintaining academic success, time management and productivity tips, a variety of writing topics, and much more.
Students can access the workshops by going to www.studentlingo.com/southalabama or www.southalabama.edu/cae and selecting "Online Workshops." You may also view the list of available workshops by logging in using this same link.
If you would like to use a CAE workshop as an assignment, simply direct students to the above link. Once students complete the workshop(s) you assign, they will receive a certificate of completion as a PDF file that they can turn in via your Canvas course site. Click here for example assignment wording.
Schedule a Presentation
The Center for Academic Excellence staff would be delighted to deliver a presentation for your class or university office/event. Please click here to schedule a presentation!
Suggest a Student For a Subject Tutoring or Writing Consultant Position
Do you know a student who would make an excellent subject tutor or writing consultant? If so, please share their contact information with us and we will reach out to the student with an application link. Please email tutor recommendations to Franklin Ard, Center for Academic Excellence Manager, at franklinard@southalabama.edu.