About Us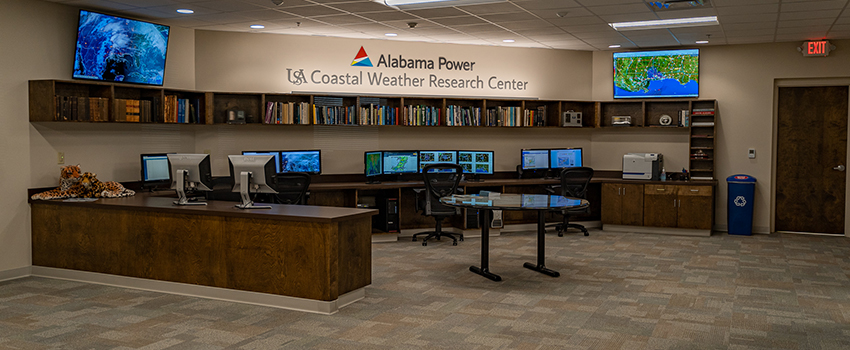 The Alabama Power USA Coastal Weather Research Center, a self-supporting operation of the Department of Earth Sciences of the University of South Alabama, began operation on January 1, 1988. Located in a newly renovated space at the Science Laboratory Building, the Weather Center consists of a meteorological laboratory, information center, and archive.
The Weather Center's information service is a unique operation for a university. Utilizing the latest in radar and satellite data, the Weather Center provides forecasts, warnings, and special weather information to businesses, industries and municipal governments in Alabama, Mississippi, and northwest Florida. Subscribers pay an annual fee based on the type of service.
Weather information is disseminated by computer and telephone. The Weather Center's website is available to subscribers 24/7 providing an array of forecasts, warnings, special statements, and climatological data. The Weather Center's "Stormcheck" service began on August 1, 1989 and continues to offer our subscribers a handy morning and afternoon email update consisting of local and regional forecasts and a weather discussion.
The Alabama Power USA Coastal Weather Research Center also supports the meteorology academic program at the University of South Alabama. The Center has become a focal point of the program by allowing students to utilize map products and data systems while receiving training in industrial meteorology. Through the efforts of the Weather Center and its staff, meteorology students are being prepared for employment with the National Weather Service and private weather forecasting companies.