Finance Major Isn't All Business
---
Posted on September 28, 2020
Thomas Becnel
---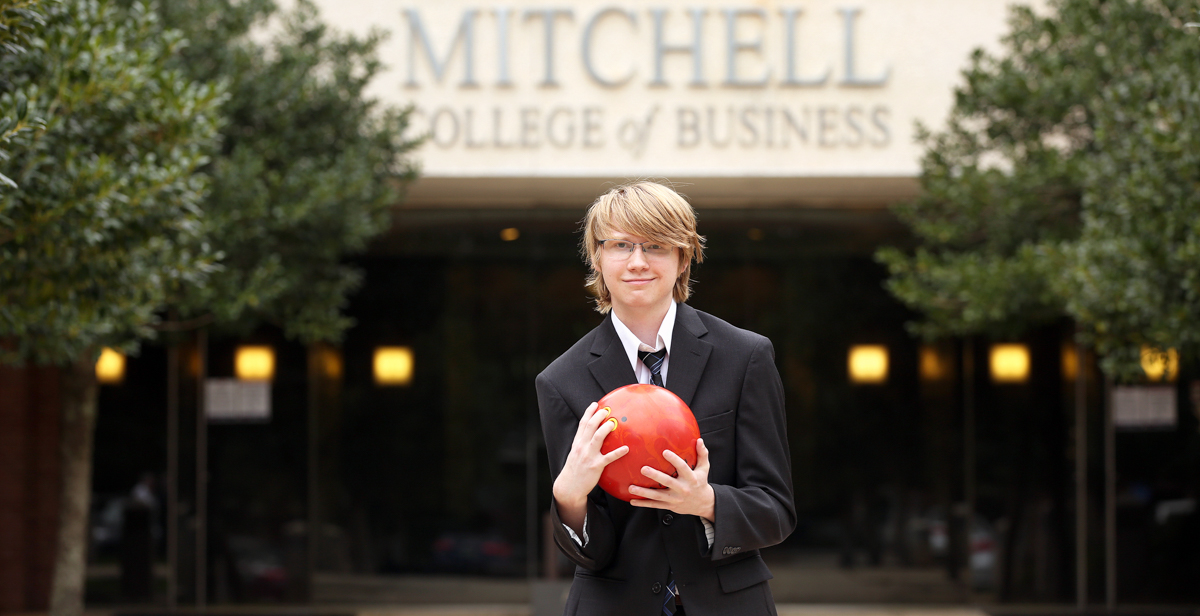 When Trey Hall toured the University of South Alabama as a student in high school, he was impressed to find the Mitchell College of Business had 12 Bloomberg terminals. "In that interview," Hall said, "I thought, 'Oh, I need to come here.'"
---
#FreshmanFocus is a series focused on incoming freshmen at the University of South Alabama.
When Trey Hall was a high school senior in Pensacola, he visited South and the Mitchell College of Business.
Dr. Bob Wood, dean of the business school, mentioned that the University had a financial center with a dozen of the Bloomberg data terminals that keep a close watch on business news and the stock market.
"So I just blurted out, 'You have how many of those machines?" Hall says, laughing. "And he had a chuckle at my reaction. In that interview, I thought, 'Oh, I need to come here.'"
In Pensacola, Hall went to the West Florida High School of Advanced Technology. He applied himself and became a Mitchell Scholar at South.
When he isn't studying, Hall enjoys bowling. For years, he's worked and played at Cordova Lanes in Pensacola. As a competitive bowler, he's serious about the sport, but has never managed to roll 300 for a perfect game. "The closest I ever came was bowling 280 in back-to-back games," he said.
Hall still goes home to Cordova Lanes almost every weekend. He'd like to start a bowling team at South, too, and compete with cross-town rival Spring Hill College.
In Mobile, Hall rents a room from the uncle of his best friend from high school. It's close to campus, which is convenient. At South, he works part-time as an IT assistant to a business professor.
His parents aren't very interested in finance, but his grandfather follows the stock market. They had a talk when he started working part-time as a teenager.
"He said, 'Son, you know what I did with my first paycheck? I bought stock in the Southern Company,'" Hall said. "He said, 'You know what you're going to do with your first paycheck? Buy stock in the Southern Company.' And I did."
Eight questions for Trey Hall:
Do you have a favorite spot on campus?
"Yes, Shelby Hall. I love listening to the fountain and the birds outside there. I sit as far as I can under the trees and de-stress."
How much of the rest of campus have you seen?
"Boy, have I gotten lost. My second day, I'm looking for payroll services, have no idea where I'm going, and I'm half an hour later than I said I would be. Finally, I stumble in, entirely by accident."
How are your classes?
"I'm taking business analytics and financial accounting, introduction to business and professional experience. And I've got introduction to drama. We're reading a play called 'The Red Coat.'"
What are some of your academic goals?
Academically, I want to major in finance, possibly come back later for my MBA, and minor in history. I'm really enthusiastic about history, and I take passion in learning as much as possible. I also could completely foresee myself taking a creative writing class or something else fun like that.
And you write poetry?
"I picked it up about four years ago. It's kind of an emotional outlet, describing where I am at that place and time."
What has going to school during a pandemic taught you?
It has been a lesson in both self-discipline and mental control. I have serious problems learning online, and I still do, but being forced into this hybrid environment has made me learn to adapt to a situation that under most circumstances I never would have to, and I've found myself managing my time better and trying to get assignments done in a more timely manner.
Where would you like to be five years after graduation?
"I could give you this grandiose plan of pipe dreams, but realistically, I'd expect to be a financial planner helping people manage their future. That's what I'd like to do."
Fill in the blank. South is _______ .
Special. Out of every school I've toured or that close friends and family went to, South has stood out and cares about its students. I truly feel welcome and excited to be here.
---