Violence Prevention Alliance


The Violence Prevention Alliance (VPA) is a volunteer-based interest group of campus and community leaders who are dedicated to:
Promoting efforts to prevent victimization of USA students, faculty, staff and community members
Identifying appropriate interventions aimed at reducing violence
Providing educational programs that address violence in our community
Providing educational opportunities is an integral component to our mission.
Our Mission
Our mission is to create and sustain a collaborative, comprehensive community effort in reducing and eliminating violence, particularly sexual victimization and harassment.
Signature Programs
Bro Code: A bystander intervention program for students that identify as male that is centered around healthy relationships and sexual assault prevention with free food and t-shirts and more.
Girls' Night Out: A four night conversational program for students that identify as female centered around healthy relationships, personal safety, communication, and self-esteem with prizes, free food, t-shirts and more.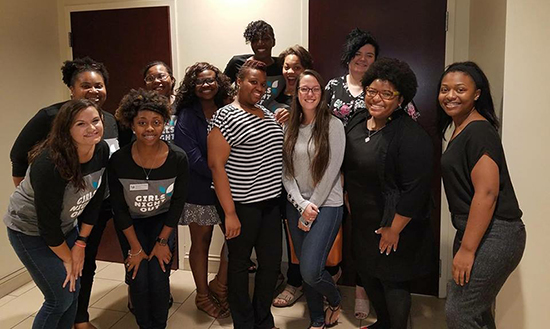 The Escalation Workshop is an all gender inclusive event to raise awareness on relationship violence. This is a powerful, film-based workshop that opens people's eyes to the warning sigs of relationship abuse. This workshop is a program of the One Love Foundation, the national leader in educating about healthy and unhealthy relationships.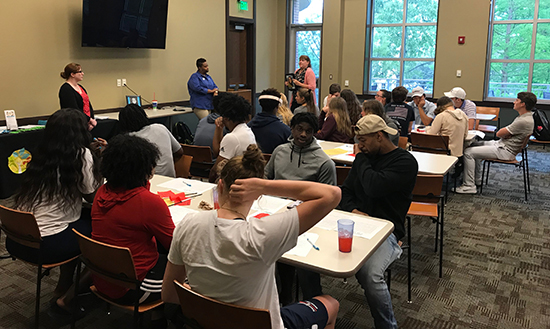 Some Examples of Past Programs:
Domestic Violence Awareness Month: a month long program during October of every year that engages the conversation for domestic violence awareness and prevention.
Not On Our Campus: Violence Prevention Forum: a community forum with a panel of local experts that allowed student and faculty and staff an outlet to discuss current events and violence prevention.
Sexual Assault Awareness Month: a month long program during April of every year that engages the conversation about sexual assault prevention.
The Clothesline Project: a national project that bears witness to violence against women and allows survivors and community members the opportunity to create t-shirts that are empowering and create awareness.
Unblur the lines: an active consent conversation that was hosted during Sexual Assault Awareness Month.
Domestic Violence 101: a training session helping to connect students to information around Domestic Violence hosted with the Penelope House and Counseling and Testing Services.
Walk Out Against Sexual Violence: a community walk on campus to raise awareness regarding sexual violence.
Perk Up and Speak Out Against Sexual Violence: a sexual assault awareness event offering a cup of coffee and information/resources.
The VPA is open to all faculty, staff, undergraduate and graduate students at the University of South Alabama. To learn more about participating, email the VPA Chair vpa@southalabama.edu.
Did you know we are on Facebook? Follow us for more information about all of our events, programs and upcoming meetings! Click here for more information!