PA Program Information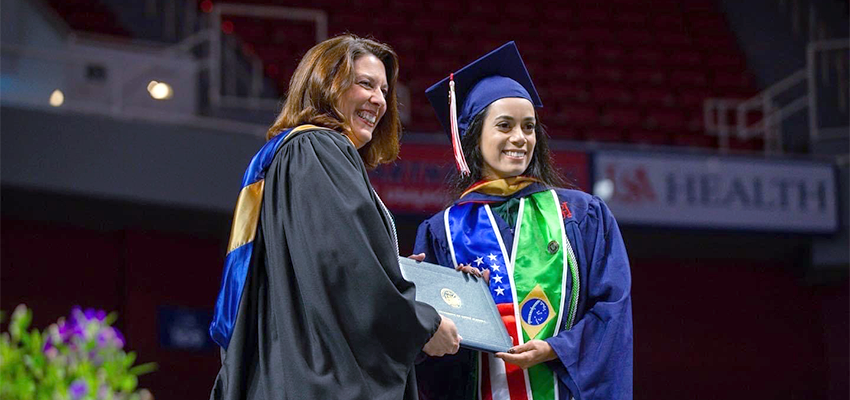 Program Information
The University of South Alabama offers a Physician Assistant (PA) Studies Master of Health Science Degree that provides entry into the profession.


Master of Health Science Information
Degree Earned
Master of Health Science
Length of Program
27 months
Number of students accepted
60
Matriculation Date
Annually in mid-May
Class Type
On site
Curriculum
121 Credit Hours
Class Schedule
Mon-Fri, 8:00 AM - 5:00 PM or as set by preceptor
Advanced Placement and Deceleration
The USA Physician Assistant (PA) Studies program does not offer advanced placement or deceleration. Transfer credits or credit for experiential learning cannot be substituted for any course in the program, and no transfer credit is accepted from other physician assistant programs. In addition, any grade below a C will result in academic dismissal from the PA program, and withdrawal from any course will automatically result in dismissal from the program.


The Didactic Component
The pre-clinical portion of the Physician Assistant Studies program consists of four semesters (15 consecutive months) beginning with the basic medical sciences in the first semester. These include gross anatomy lab with prosection and dissection, physiology, introduction to infectious diseases, and introduction to physical examination skills. In semesters 2 through 4 students actively participate in learning the clinical medical sciences and physical examination skills through lectures given by the core faculty and guest lecturers from a variety of specialization areas. Other pedagogical methods are employed to facilitate student learning and mastery. These include case-based and team-based learning strategies. Additionally, simulation lab, standardized patient clinic, direct patient experiences, service-learning and community outreach projects are also employed to enhance the student's learning.


Clinical Rotations
Clinical rotations are mostly in Mobile, Alabama, with other locations in Pensacola, Florida, and the Mississippi Gulf Coast. All rotations within a 75-mile radius (one-way) are considered commutable. Elective rotations may be considered in other locations. Rural rotations for Primary Care and Pediatrics are required.

The University of South Alabama Physician Assistant program participates with the Area Health Education Centers (AHEC) of Alabama for clinical clerkships. Students may be assigned to rural rotations in Primary Care and other disciplines at AHEC facilities.


Employment
The Physician Assistant Studies Program policies strictly prohibit the program and all its academic and clinical affiliates and preceptors from employing any PA students, or utilizing them in lieu of office or clinical staff, while attending the program.

PA students are also strongly discouraged from accepting any other employment while attending the program as this will interfere with their education.


Remediation
Mandatory remediation will be required of any clinical or didactic student who meets the grounds for remediation. The student's progress will be subsequently monitored and future remediation will be arranged as needed. Successful completion of remediation is defined for the didactic and clinical student per policy. See Student Progress Committee Policies and Procedures.


Student Progress Committee Policies and Procedures
Click here for our current SPC Policies and Procedures.