Christopher Raczkowski
---
---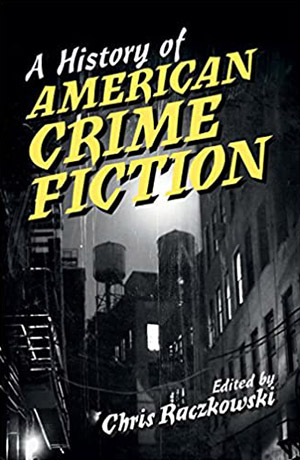 A History of American Crime Fiction. Cambridge University Press, 2017.
HARDCOVER EBOOK USA LIBRARY
A History of American Crime Fiction places crime fiction within a context of aesthetic practices and experiments, intellectual concerns, and historical debates generally reserved for canonical literary history. Toward that end, the book is divided into sections that reflect the periods that commonly organize American literary history, with chapters highlighting crime fiction's reciprocal relationships with early American literature, romanticism, realism, modernism and postmodernism. It surveys everything from 17th-century execution sermons, the detective fiction of Harriet Spofford and T. S. Eliot's "The Waste Land," to the films of David Lynch, HBO's The Sopranos, and the podcast Serial, while engaging a wide variety of critical methods. As a result, this book expands crime fiction's significance beyond the boundaries of popular genres and explores the symbiosis between crime fiction and canonical literature that sustains and energizes both.
---
Other Publications
"Chester Himes, Frantz Fanon and the Literary Decolonization of Harlem." LIT: Literature, Interpretation, Theory 12.1 (2012): 1-25.
"Chester Bomar Himes," entry in Blackwell's Encyclopedia of Twentieth-Century American Fiction. Blackwell Publishing, 2011.
"Metonymic Hats and Metaphorical Tumbleweeds: Noir Literary Aesthetics in Miller's Crossing and The Big Lebowski." In The Year's Work in Lebowski Studies, eds. Edward Comentale and Aaron Jaffe. Bloomington: Indiana University Press, 2009.
"The Sublime Train of Sight in A Hazard of New Fortunes." Studies in the Novel 50.3 (2008): 284-306.
"The Simple Art of Murder Criticism." [featured review essay of three critical studies of detective narrative and modernism] MFS: Modern Fiction Studies, 53.4 (2007). 876-886.
"From Modernity's Detection to Modernist Detectives: Narrative Vision in the Work of Allan Pinkerton and Dashiell Hammett," Modern Fiction Studies (December 2003). 629-660.
---