Invest in the College of Education and Professional Studies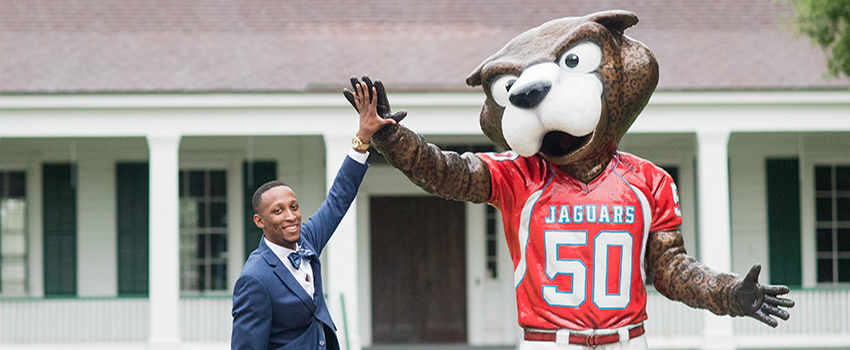 Financial support dramatically impacts the lives of students in the College of Education and Professional Studies. Your support allows us to transform our community and expand our outreach through a commitment to excellence in education and human services.
Scholarship Recipient Spotlight
Laura Anderson, Clinical Metal Health Counseling Class of 2020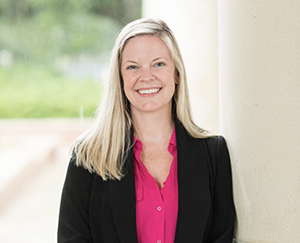 "The Dr. Vaughn Millner Endowed Scholarship in Counseling has allowed me to pursue my studies in clinical mental health counseling with less stress about finances and the ability to focus on my coursework and internship. I am very thankful for Dr. Millner's generosity. The experiences at South have been wonderful and I feel that I am prepared to step into my field with the education and expertise necessary to truly make a difference with my clients. In the future, I hope to continue growing my knowledge and understanding of the field through pursuing LPC licensure, as well as additional training and certifications. I am excited to be starting my career locally as a therapist with Lifelines Counseling Services."
Areas of Priority for the College Include:
Student Scholarships
The enrollment, education and graduation of outstanding students is of paramount importance to the College of Education and Professional Studies. Employers and other external constituents benefit from inspired graduates entering the workforce. In order to attract these students, the College of Education and Professional Studies must offer competitive scholarships. The Mitchell-Moulton Scholarship Initiative matches any endowed undergraduate scholarship gift dollar-for-dollar.
Community Engagement
Studies have shown that community engagement improves learning outcomes, improves critical thinking and increases ability to apply classroom knowledge of real-world problems. The College of Education and Professional Studies provides community engagement opportunities for our students, faculty and staff like the Literacy Center, Williamson Prep, court systems among other opportunities. Support from our donors would allow for the college to continue to provide service and engagement to our community.
To give to the listed priorities, please visit giving.southalabama.edu or contact College of Education and Professional Studies Development Officer Aimee Meyers at ameyers@southalabama.edu.
▼ 2019-2020 College of Education and Professional Studies Scholarship Recipients
Akridge-DeVan Family Endowed Scholarship in Education
Kelsea Kyser
Akridge-DeVan Family Endowed Scholarship in Education
Macey Spencer
Alane and Mark Hoffman Special Education Certification Scholarship
Caitlin Robison
Alfred F. Delchamps, Sr. Memorial Scholarship
Anthony Jackson
Barbara Phillips Endowed Award for Special Education Teachers
Gillian Eighmy
Betty and Richard Wold Education Administration Endowed Scholarship
Aaron Rowbotham
Burette S Tillinghast, Jr. Graduate Scholarship in School Counseling
Melissa Haddix
Captain Allen U. Graham Memorial Scholarship
Janna Vise
Captain George A. Manders Endowed Fund in Interdisciplinary Studies
Lacey Watson
Carol and Jim Statter Endowed Scholarship for Literacy Education
Madison Green
Charles & Virginia Thompson Endowed Scholarship in Hospitality
Marley Page
College of Education Scholarship
Joshua Crowley
Don Winterton Endowed Scholarship for Science Education
Robert Coke
Dr. Elizabeth F. Martin and Dr. Wilma M. Scrivner Scholarship
Kashama Miller
Dr. Evelyn Kwan Green Endowed Scholarship in Hospitality and Tourism
Marley Page
Dr. Vaughn Millner Endowed Scholarship in Counseling
Laura Anderson
Dr. Richard L. Hayes Endowed Scholarship in School Counseling
Kaylen Cruse
Ed Bunnell Adult Degree Program Scholarship
Cameron Shaw
Gaillard-Neville Reynolds Scholarship for PASSAGE USA
Grace Green
Gaillard-Neville Reynolds Scholarship for PASSAGE USA
Travis Weekley
Gaillard-Neville Reynolds Scholarship for PASSAGE USA
Timberly Beckham
Gaillard-Neville Reynolds Scholarship for PASSAGE USA
Georgia Davis
Harold Bickel Memorial Scholarship in Education
Harrison Santini
Harvel A. Owens Endowed Scholarship in Education
Allison Pickett
Helping Hands Development Award
Alaysia Davis
Hospitality Advisory Board Leadership Endowed Scholarship
Macey Spencer
J. Howe and Annie Bell Hadley Memorial Scholarship
Kashama Miller
Jeanne M. Sanderford Scholarship
Madison Ernest
Jim and Liz Connors Hospitality Management Scholarship
Destin Sims
Joycelyn Franklin Finley Trailblazer Scholarship
Cameron Shaw
John Hadley Strange Scholarship
Brheannon Horton
Josephine Wood Tillinghast Endowed Scholarship in Education
Mandy Antwine
Keasler/Spillers Scholarships
Mandy Antwine
Lavonne Simon Endowed Book Award
Corey Broughton
Lavord and Doris Crook Endowed Scholarship
Lane Sims
Linda Reaves Endowment for Educators in Science and Mathematics
Hannah Naylor
Lisa Mitchell Bukstein Developing Students Scholarship
Caitlin Robison
Malcolm R. Howell Endowed Scholarship in Education
Corey Broughton
Mobile Area Lodging Association Scholarship
Nicole Russell
Mobile County Foundation for Public Higher Education Scholarship for Excellence
Georgia Howell
Pamela Lynne Patterson Endowed Scholarship in Education
Hollie Thomas
Patricia Kelly Lofton Endowed Scholarship for Teachers
Morgan Walden
Paula Lawkis-Bruton Memorial Endowed Scholarship
Tara Cooke
PNC Bank Endowed Scholarship in Early Childhood Education
Devaughn Hardrick
Ralph Jones Memorial Scholarship
Kaitlyn Moody
Robert Hopkins Memorial Endowed Scholarship in Education
Martine Alger
Ronald A. Styron, Sr. Memorial Endowed Scholarship
Paul Agnew
Rotary Club of Mobile Scholarship
Jennifer Lazarus
Ruth M. Gwinn-Heitman Endowed Scholarship
Adrienne McSwain
Spectrum Resorts Scholarship
Harrison Santini
Student Leaders in Education Scholarship
Jacob Green
The Daniel Foundation of Alabama Endowed Scholarship for Teachers
Katherine Lesley
The Daniel Foundation of Alabama Endowed Scholarship for Teachers
Savannah Zbinden
The Nancy Gaillard Love of Teaching Scholarship
Lauren Bunn
Thomas Corcoran Scholarship in Interdisciplinary Studies
Cameron Shaw
Tiffany K. Whitfield Book Scholarship for Education Students
Morgan Walden
Tom Wood Tillinghast Endowed Scholarship in Education
Rachel Cargill
Travis M. Bedsole, Jr. and Susan D. Bedsole Endowed Scholarship in Education
Laurie Graves
Valerie R. Morgan Memorial Scholarship in Graduate Education
Eric James
White-Spunner Endowment Scholarship in Education
Amiriam Watson
William Chamberlain Technology Teaching Award
Gillian Eighmy
Williams Charitable Foundation Book Award
Anna Griffith
Wind Creek Hospitality Endowed Scholarship in Hospitality and Tourism
Destin Sims