William B. Burnsed Jr. Department of Mechanical Engineering Graduate Program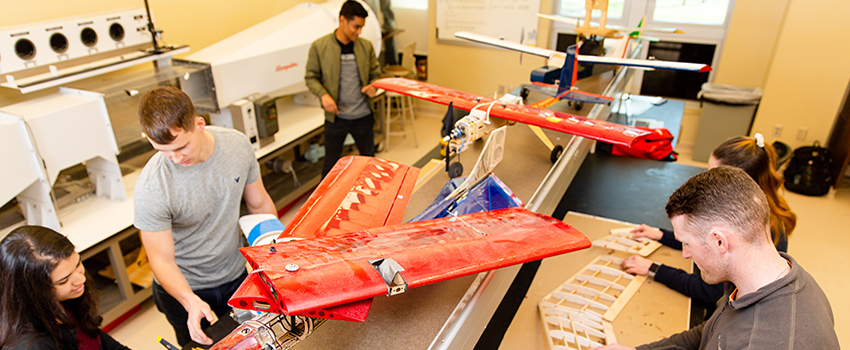 Accelerated Bachelor's to Master's (ABM) program
The ABM program allows full-time undergraduate students in Junior or Senior year at USA, who have both an engineering and institutional GPA of 3.4 or better at USA, to earn their MSME degrees at an accelerated pace. Students registered for the ABM program may use up to six credit hours of graduate course work towards both the BSME and MSME degrees. This means that after earning the BSME degree the course load for the MSME degree is reduced by six credit hours. More information is available here.
Master of Science degree in Mechanical Engineering (MSME)
A Master's degree in Mechanical Engineering is increasingly required for advanced-level employment opportunities with higher-profile national and international employers. Students who want to separate themselves from the pack in the employment race should seriously consider taking a Master's degree either through the ABM program (see above) or as a stand-alone qualification. The programs of study provide knowledge of modern engineering concepts and practices, and build upon the knowledge and skills expected of a holder of a typical Bachelor's degree to the point where a Master's graduate can make high-level contributions to contemporary engineering designs. A Master's degree is also an ideal preparation for further study towards the doctoral degree if desired.
1Should the student present an unsatisfactory defense, a second attempt will be allowed no sooner than 12 weeks after the first attempt. A second unsatisfactory defense will result in dismissal from the program.
2No written comprehensive examination is required of Thesis option MSME students. Successful defense of the Thesis will be deemed to satisfy the comprehensive examination requirement for Thesis option candidates.
3A RCR certificate issued by this program must be presented at the time the thesis/project prospectus is submitted.
We encourage applications from qualified candidates. Several graduate assistantships (GAs) are available for highly qualified applicants. GA application will only be considered for those who have been admitted to our MSME program.
There are no deadlines for graduate study applications in Engineering, but you are recommended to apply in good time to allow evaluation of your application and to make arrangements to relocate here if admitted.
Doctor of Philosophy degree (PhD)
The PhD is the highest degree available in most disciplines. PhD programs are designed to prepare students for leadership positions in applied research, to meet the needs of industry and the engineering community for highly-qualified technical experts, and to capitalize on opportunities for interaction between a research university and industry. Graduate faculty members of the William B. Burnsed Jr. Department of Mechanical Engineering are able to advise and supervise students who wish to earn a Doctoral degree (PhD) in Systems Engineering or in Biomedical Engineering (the latter offered in conjunction with the USA College of Medicine).
▼ Additional Information, Doctor of Philosophy degree (PhD)
Study for the PhD degree centers upon extended interdisciplinary research in engineering of complex systems, requiring at least 67 credit hours after the Bachelor's degree, including at least 19 credit hours of dissertation research over several years. A typical PhD dissertation might cover improving an engineering process, using systems engineering principles in a new engineering application, designing a new device, improving reliability, or other advanced topics at the cutting-edge of current engineering practice.
▼ Further Information, Systems Engineering PhD
The Ph.D. in systems engineering offers the students a holistic approach to the design and understanding of complex systems. NASA defines systems engineering as "a holistic, integrative discipline, wherein the contributions of structural engineers, electrical engineers, mechanism designers, power engineers, human factors engineers, and many more disciplines are evaluated and balanced, one against another, to produce a coherent whole that is not dominated by the perspective of a single discipline." The main objectives of the Ph.D. program are to 1) provide our graduates with the ability to approach all systems (engineered, environmental, coastal, etc.) with the ability to understand the entire system lifecycle in a manner that meets the needs of industry, and 2) prepare our graduates for leadership positions requiring applied research and critical thinking.
This program is appropriate for students who want to pursue research-based careers in industry, government, or academia. The program requires a combination of systems engineering coursework along with specific, validated systems research resulting in a publicly defended doctoral dissertation.
More information about Systems Engineering
Admissions Requirements for the Systems Engineering PhD