Minority Business Accelerator (MBA)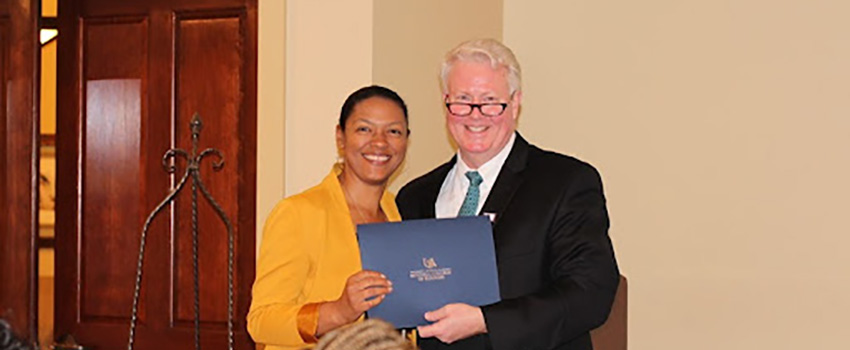 The Minority Business Accelerator (MBA) is a 9-week entrepreneurial training series and competition for minority entrepreneurs. This program was created as a joint effort by the Melton Center for Entrepreneurship and Innovation, the Office of Research and Economic Development at USA, the Mobile Chamber of Commerce, the Innovation Portal, and the Small Business Development Center. It is sponsored by PNC Bank. A select group of interested minority entrepreneurs or business owners in southwest Alabama are invited to participate in an intensive and customized curriculum to help them grow and expand their businesses.
The MBA program's impact comes from equipping small business owners with top-notch intensive and customized entrepreneurial acceleration that will result in scaling businesses in a faster, smarter and assertive way.
Participants are provided with a cash stipend to fund specific business milestones identified during the training. The winner of the graduation pitch earns $10,000.
Benefits
Five minority entrepreneurs will be selected to participate in this 8-week entrepreneurial training series featuring Lean Launch and Business Model Canvas Principles.
Customer development, product/service, development, market expansion, and business growth.
Upon completion of the program, successful applicants will receive a small participation stipend and compete for in-kind prizes at a business pitch competition.
Criteria
51% minority owned and operated
Less than $400K revenue
In business at least one year
The Voices of our Participants
Troy Ephriam: "The Minority Business Accelerator program couldn't have come along at a better time for me and my company, Ephriam & Associates Consulting, LLC. I started out the course as Ephriam & Associates Environmental Consulting focusing primarily on site development, eco-assessments and enviro permitting needs for my clients but through the program's business model generation process, the program pushed me beyond my comfort zone and helped me to realize that my company actually specialized in land use development and that my customer segments were varied but similar along the lines of what services we offered. We had to reinvent our business model. Lastly, I think this program supports minority businesses best by showing them how to become innovators which is a real game changer. Ephriam and Associates is extremely grateful."
Enoch Smith: "I encourage participants to come into the program looking to change and improve and be truthful about where you are. Winning is good, but the vision, purpose, and plan are priceless"
For more information, contact Don Mosley at dcmosley@southalabama.edu or call 251-460-6730.