USA Jaguar Color Guard: Information and Auditions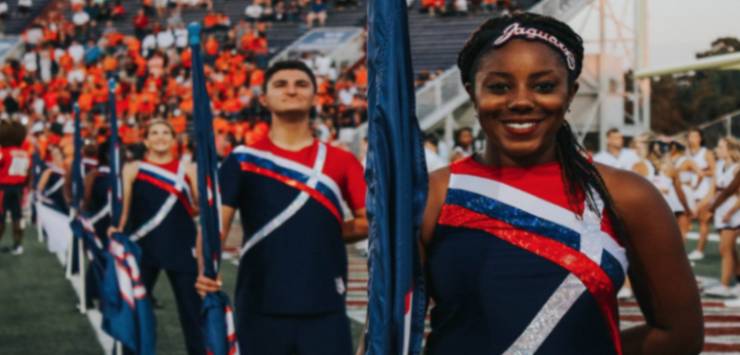 About the Jaguar Color Guard
No other performing unit can add the color, motion, and field coverage provided by a color guard. The USA Jaguar Marching Band seeks a group of dynamic performers who can consistently provide these elements.
Auditions for the 2024 USA Color Guard will occur at our on-campus audition on Saturday, April 20, 2024! To find out more information about the USA Color Guard audition, please visit our Color Guard audition page.
Students must be fully admitted to the University in order to audition. Also, students may not exceed age 28 as of August 1, 2024.
The Jaguar Color Guard rehearses Monday-Friday from 4:00-6:00PM during the fall semester. All members of the Jaguar Color Guard must enroll in the University Marching Band Course (MUO 130). Each member of the Color Guard receives a scholarship for their participation and all costs for equipment and travel are covered by the university.
Practice Videos for Reference