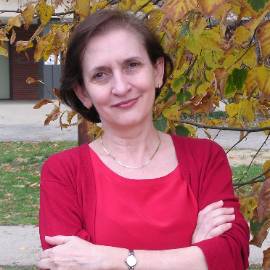 Mihaela Marin
Associate Professor, FrenchDepartment of Modern and Classical Languages and Literature

---
---
Research Interests
19th- and 20th- century French literature and culture with a focus on
realism and naturalism
Narratology, cultural history, society and institution
Interdisciplinary approaches (literature and visual arts, architecture,
archeology; anthropology)
Ethnographic description
The fantastic genre; Modernist aesthetics.
---
Publications
Book
Le Livre enterré. Zola et la hantise de l'archaïque. Grenoble : ELLUG (Editions Littéraires et Linguistiques de l'Université de Grenoble), 2007.
Journal Articles, Chapters, Translations
« Le Grotesque des visages dans La Terre de Zola ». Les Cahiers Naturalistes, Nr. 93, 2019, Paris.
Bukner, Ellen. Mihaela Marin & al. "From the Ground Up: Developing a Multidisciplinary Campus-Wide Faculty Mentorship Program" in The Journal of Higher Education, 2018
Marin, Mihaela [Review of the book: Larry Duffy, Flaubert, Zola and the Incorporation of Disciplinary Knowledge. Palgrave Macmillan]. The French Review, vol. 90.3. March 2017.
« Rituels nouveaux et anciens : sang, boucheries et sacrifice dans Le Ventre de Paris de Zola », Excavatio, Vol. XXV, 2015.
Marin, Mihaela. [Book review: Sébastien Roldan, La pyramide des souffrances dans La Joie de vivre d'Emile Zola : Une structure schopenhaurienne. Québec: Presse de l'Université du Québec, 2012]. The French Review, Spring 2014.
« Concept ou métaphore ? Le roman respiratoire de Zola » in Re-Reading Zola and Worldwide Naturalism. Miscellanies in Honour of Anna Gural-Migdal. Eds. C. Snipes-Hoyt, Marie-Sophie Armstrong, Riikka Rossi. Cambridge Scholars Publishing: Newcastle, 2013.
« Retour de l'U.R.S.S. ou l'impossible témoignage de l'Est », Bulletin des Amis d'André Gide, Vol. 39, Nr. 170, April 2011.
« Zola l'antimoderne » in Résistances à la modernité. Christophe Ippolito, ed. Paris : L'Harmattan, 2010.
Un cœur simple: Variations sur un paysage normand, » The Romanic Review Volume 98:4, November 2008.
Tragique, tragédie, naturalisme : une intertextualité oubliée? » in Zola et le naturalisme en Europe et aux Amériques: Généricité, intertextualité et influences. Anna Gural-Migdal and Carolyn Snipes-Hoyt eds., New York : E. Mellen Press, 2006.
Géometries de l'invisible: impacte de la théorie naturaliste dans les descriptions du Ventre de Paris de Zola, » Les Cahiers naturalistes, Paris, Septembre, 2003.
Fragment romantique et perspective narrative dans la poétique naturaliste, » in La Voix narrative, special issue of Les Cahiers de narratologie, CNA, Nice, June 2001.
La Ville structuraliste de Zola : urbanisme et architecture textuelle dans L'Assommoir, » Excavatio, Volume XIII, September, 2000.
La Bucolique des HaIles: symbole et paysage dans Le Ventre de Paris de Zola, » Excavatio, Volume XII, September, 1999.
La Banlieue et les lois de la transformation symbolique dans L'Assommoir de Zola, » Excavatio, Volume X, 1997.
Translations: poetry, essays on literature and culture, for French, Romanian, and Hungarian journals and magazines : NE Europa, Paris, France ; Puntea, Cluj, Romania ; Nagyyilág, Budapest, Hungary.
Grants
Seed Grant Program in Arts and Humanities – University of South Alabama, Office of Research and Economic Development – January 2016.
Sabbatical Leave – Spring Semester 2015-2016 – University of South Alabama. College of Arts and Sciences. January – June 2016.
Tournées French Film Festival Grant – Cultural Services of the French Embassy and Face Foundation. October 2014 – March 2015.
CFFD Grant (College Fund for Faculty Development) – for participation in international conference organized by the Institute for Germanic and Romance Studies, London, UK. July 2009.
---
Courses
All Levels of french language, literature and culture courses