Cardiovascular Diseases Fellowship
Find out about the Cardiovascular Diseases Fellowship from our fellows and faculty.
Learn more about residencies and fellowships at the University of South Alabama and life on the Gulf Coast.
Message from the Director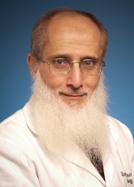 A three year program.
Our program offers a three-year general cardiology fellowship training accredited by the Accreditation Council for Graduate Medical Education (ACGME). The training conforms to the recommendations of the American College of Cardiology 2014 Recommendations for Training in Adult Cardiovascular Medicine Core Cardiology Training (COCATS 4 [PDF]).
A comprehensive training experience.
The general goal of the program is to provide fellows with the highest quality training to prepare them for the most successful clinical, academic, and research careers. A highly effective structured combination of didactic, clinical and research teaching tools are utilized to ensure a comprehensive training experience. Our highly experienced full-time and adjunct faculty and staff are instrumental in achieving and maintaining a harmonious, well-balanced educational environment with focus on trainee well-being and scholarship.
Invasive services at a medium-sized facility.
The Fellowship Program is centered at the USA Health University Hospital, in Mobile, Alabama. The University Hospital is a 125 bed acute care facility. There is an active and busy emergency department, regional level 1 trauma service and an active cardiac surgery program. Invasive cardiac services offered include pericardiocentesis, all forms of diagnostic cardiovascular catheterization and coronary and peripheral vascular interventions including percutaneous transluminal coronary angioplasty, coronary atherectomy and coronary, renal and peripheral vascular stenting. A wide array of cardiac electrophysiology procedures, including permanent pacemaker and AICD implantation and interrogation are also available.
Non-invasive services are state-of-the-art.
Non-invasive services include a state-of-the-art fully digital cardiovascular laboratory. The non-invasive laboratory is equipped to provide resting ECGs, ambulatory ECGs, event monitors, signal-averaged ECGs, treadmill exercise tests, exercise nuclear stress tests as well as pharmacologic stress tests. The echocardiography laboratory is equipped with state-of-the-art technology to provide M-mode, two dimensional, three dimensional and Doppler echocardiography as well as color flow mapping and strain imaging. Transesophageal echocardiography and stress echocardiography (exercise and dobutamine) are available. Non-invasive vascular imaging is also available, offering all modalities of venous and arterial ultrasound imaging including carotid and transcranial Doppler studies.
A busy schedule.
We currently perform approximately 1,000 adult invasive cardiac procedures per year, 12,000 resting ECGs per year, 400 - 500 ambulatory ECGs or event monitor recordings per year, 1,000 stress tests per year and 2,000 echocardiographic studies per year. The Division of Cardiology provides inpatient consultation on approximately 250 patients per year and manages a cardiology inpatient service including coronary critical care. Outpatient cardiology services are provided at the USA Health University Hospital.
A qualified faculty.
The Division of Cardiology currently consists of several full-time key clinical faculty members who possess a wide breadth of clinical expertise covering the full spectrum of cardiac procedures and services. We have a strong affiliation with many practicing cardiologists in Mobile and cardiology faculty at the University of Alabama in Birmingham (UAB), allowing adjunctive training in invasive techniques, nuclear cardiology, cardiac CT, cardiac MR and cardiac electrophysiology.
Research in flexible rotations.
Exposure to cardiovascular research is mandatory in the training of cardiology fellows whether they are oriented towards private practice or academics. All fellows are expected to participate in divisional research activities. Realizing that the level of interest in research and career goals vary among fellows, the amount of time spent in research and the timing of research rotations are flexible. Every fellow has the opportunity to play a significant role in established research protocols. In addition, faculty mentors are available to help fellows develop their own research ideas into workable projects.
Apply through ERAS.
There are currently 6 fellows in our program, with two fellows accepted every year. Our program participates in the National Residency Matching Program (NRMP). Applications are only accepted through the Electronic Residency Application Service (ERAS). Applicants are highly encouraged to familiarize themselves with all application procedures and deadlines. Interviews are offered to highly qualified candidates by invitation only.
Thank you for your interest in our program.
Bassam Omar, M.D., Ph.D., FACC, FAHA
Professor of Medicine and Cardiology
Director, Cardiovascular Disease Fellowship Training Program
Interim Chief of Cardiology