Civil, Coastal, & Environmental Engineering Graduate Program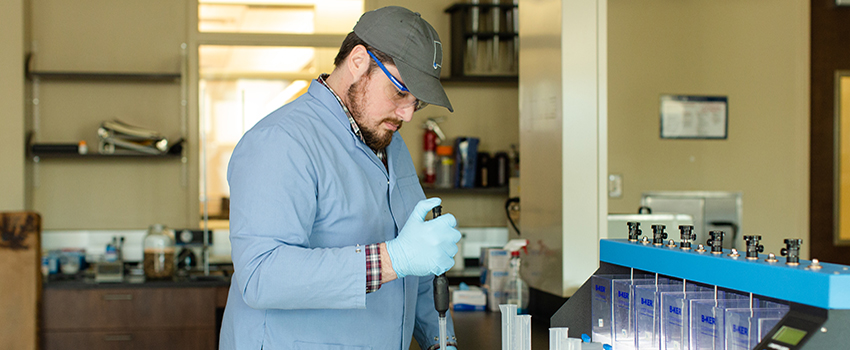 Important update for all MSCE applicants
All MSCE applicants please note: GRE requirements are temporarily removed from the MSCE admission policy until further notice.
Accelerated Bachelor's to Master's (ABM) program
The ABM program allows full-time undergraduate students within two semesters of BSCE graduation at USA, who have a cumulative GPA of 3.0 or better at USA (with at least 30 credit hours taken at USA), to earn their MSCE degree at an accelerated pace. Students registered for the ABM program may use up to six credit hours of graduate course work towards both the BSCE and MSCE degrees. This means that after earning the BSCE degree the course load for the MSCE degree is reduced by six credit hours. More information is available here.
Certificate programs
The Department of Civil, Coastal and Environmental Engineering offers a number of Graduate Certificate programs that build upon the experience and disciplinary attainment of a typical Bachelor's degree. Studying for one of these "micro-credentials" is ideal for practicing professionals wishing to enhance or update their knowledge of a particular niche aspect of the discipline. Study for a Graduate Certificate in Civil, Coastal and Environmental Engineering may be in-person (on the USA main campus) or up to 100% online. All earned credits are full graduate credits and can either be applied toward a MSCE degree at USA, or transferred to other institutions.
▼ More details of admission and study time requirements for a Certificate program
Admission to a Certificate program in Civil, Coastal and Environmental Engineering is dependent upon the University's evaluation of each candidate's academic record (transcripts, certificates, diplomas) and English language proficiency; acceptance requires a Bachelor's degree in Civil Engineering (or a closely related equivalent) and appropriate course prerequisites. For the award of a Certificate, completion of four 3-credit courses (totaling 12 credit hours of formal study) with a minimum GPA of 3.0 is required, at the rate of either one or two 3-credit courses per semester. Each 3-credit course studied requires nominally 45 hours of instructional time over one semester, and the total time required for completion of the Certificate curriculum ranges from 10 to 22 months.
Further information on the Graduate Certificate in Coastal Engineering
Further information on the Graduate Certificate in Structural Engineering
Further information on the Graduate Certificate in Water/Wastewater Engineering
Master of Science degree in Civil Engineering (MSCE)
A Master's degree in Civil Engineering is increasingly required for advanced-level employment opportunities with higher-profile national and international employers. Students who want to obtain a "state of the practice" technical foundation in one of the civil engineering subdisciplines should seriously consider taking a Master's degree either through the ABM program (see above) or as a stand-alone qualification. The programs of study provide knowledge of modern engineering concepts and practices, and build upon the knowledge and skills expected of a holder of a typical Bachelor's degree to the point where a Master's graduate can make high-level contributions to contemporary engineering designs. A Master's degree is also an ideal preparation for further study towards the doctoral degree if desired.
▼ Additional Information, Master of Science degree (MSCE)
Two study plans are available. The thesis option requires six credit hours for writing a medium-length technical report. This thesis is generally a contribution to original engineering research on a topic of great relevance to current state-of-art in Civil, Coastal or Environmental Engineering. The Course option includes no project work but there is a correspondingly larger coursework requirement. Both options require a total of 30 credit hours. More information is available here.
▼ Program Curriculum
Thesis Option: 30 credit hours
15 to 18 semester hours course work in engineering

6 to 9 semester hours course work in supporting areas

6 semester hours of thesis credit
Course Option: 30 credit hours
18 to 21 semester hours course work in engineering
9 to 12 semester hours course work in supporting areas
Details of Program Curriculum (PDF)
There are no deadlines for graduate study applications in Engineering, but you are recommended to apply in good time to allow evaluation of your application and to make arrangements to relocate here if admitted.
Doctor of Philosophy degree (PhD)
The PhD is the highest degree available in most disciplines. The PhD program is designed to prepare students for leadership positions in applied research, to meet the needs of industry and the engineering community for highly-qualified technical experts, and to capitalize on opportunities for interaction between a research university and industry. Graduate faculty members of the Civil, Coastal, & Environmental Engineering Department are able to advise and supervise students who wish to earn a Doctoral degree (PhD) in Systems Engineering.
▼ Additional Information, Doctor of Philosophy degree (PhD)
Study for the PhD degree centers upon extended interdisciplinary research in engineering of complex systems, requiring at least 67 credit hours after the Bachelor's degree, including at least 19 credit hours of dissertation research over several years. A typical PhD dissertation might cover improving an engineering process, using systems engineering principles in a new engineering application, designing a new device, improving reliability, or other advanced topics at the cutting-edge of current engineering practice.
▼ Further Information, Systems Engineering PhD
The Ph.D. in systems engineering offers the students a holistic approach to the design and understanding of complex systems. NASA defines systems engineering as "a holistic, integrative discipline, wherein the contributions of structural engineers, electrical engineers, mechanism designers, power engineers, human factors engineers, and many more disciplines are evaluated and balanced, one against another, to produce a coherent whole that is not dominated by the perspective of a single discipline." The main objectives of the Ph.D. program are to 1) provide our graduates with the ability to approach all systems (engineered, environmental, coastal, etc.) with the ability to understand the entire system lifecycle in a manner that meets the needs of industry, and 2) prepare our graduates for leadership positions requiring applied research and critical thinking.
This program is appropriate for students who want to pursue research-based careers in industry, government, or academia. The program requires a combination of systems engineering coursework along with specific, validated systems research resulting in a publicly defended doctoral dissertation.
More information about Systems Engineering
Admissions Requirements for the Systems Engineering PhD