Adventure Trips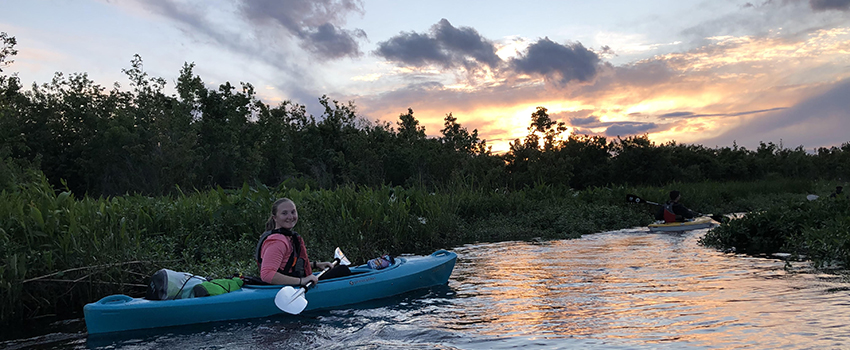 All Outdoor Adventures trips include equipment and trip guides. Prior to each trip you will receive an email from your trip leaders with important information such as meeting time and location, weather updates, a detailed packing list, and any additional paperwork. For all trips we ask that you bring a water bottle, meals (if prompted), and snacks, wear appropriate clothing and footwear, and bring sun protection such as a hat or sunscreen.
All Outdoor Adventure trips require a signed liability waiver. See below for more information.
Trip Calendar and Descriptions
▼ Trip Registration
All outdoor trip registrations and payments are made online via the Campus Recreation Portal. Payment is made in advance and full refunds will be given if the trip is canceled by Campus Recreation and Wellness.
Please contact outdooradventures@southalabama.edu if assistance with online registration is needed.
We have three price categories for our trips: Student, SRC Member, and Faculty/Staff non-members.
Student: This price is for students currently enrolled in USA classes. If you are taking a semester off and are not enrolled, you may participate in the trip but will pay the non-member price.
SRC Member: This price is for faculty, staff, alumni, retiree, spouse, dependent, and plus one members of the Student Recreation Center.
Faculty/staff non-members: This price is for any faculty/staff who is not a member of the SRC or a student taking the semester off.
Refunds: If you wish to cancel your registration and receive a refund, please see the trip details for the refund deadline. The deadline to cancel and receive a refund varies by trip. If a trip is canceled by Campus Recreation and Wellness, then registrants will receive a full refund.
▼ Liability waiver
Participants under age 19 must have a parent/guardian sign the waiver ahead of time. Participants age 19 and over may sign their own waiver.