Outdoor Adventure Jobs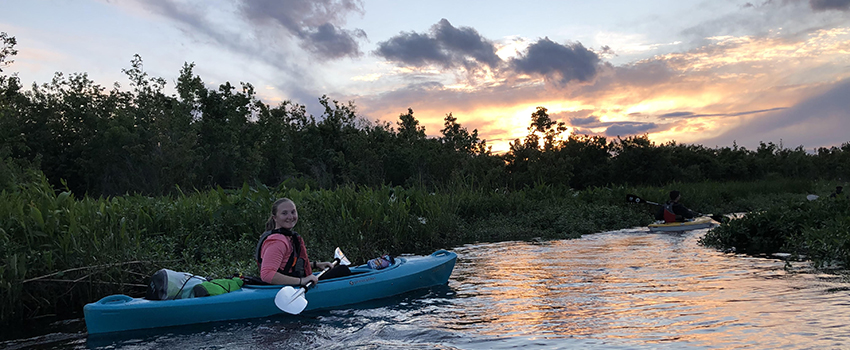 Outdoor Adventures is a great place for current USA students to find employment, and jobs are available each semester. The Student Recreation Center is conveniently located on Jaguar Boulevard and easily accessible to USA students who live on and off campus. Pay for all positions begins at $8.00/hour with immediate promotion after two months' employment.
Outdoor Adventures Job Application
Climbing Wall & Gear Rental Attendant
The climbing wall is open 2:00-8:00pm daily. The wall may be open extra hours occasionally for private parties and special events. Attendants are eligible to work up to 20 hours per week and are scheduled based on availability and around academic class times. Timely schedule requests and availability updates allow time for other activities and home visits.
Attendants are required to attend a four-hour safety course prior to beginning work. Attendants will also work at the gear rental desk located in the Student Recreation Center next to the climbing wall, where climbers receive gear; outdoor gear rental also takes place at this location. Attendants will also be required at the Outdoor Adventures Cabin when needed.
Adventure Trip Leader
Adventure Trip Leaders can expect to lead 1-4 adventure trips per month, depending upon skill and availability. Adventure Trips last anywhere from several hours to several days, in the Mobile area and other locations across the Southeast. At the beginning of each semester, Trip Leaders will be assigned trips based on a preference sheet they have filled out.
Trip Leaders will be given various training such as Wilderness First Aid, Truck/Trailer driving, Paddling Skills, Leadership Skills, and Group Camping. Trip Leaders will be responsible for planning their trips, contacting participants, creating risk management plans, and teaching necessary skills to participants. Trip leaders are eligible to work up to 20 hours per week.
Bike Attendant/Mechanic
Bike Attendants/Mechanics can expect to work in the full-service bike shop located in the Outdoor Adventures Cabin for up to 3 hours a week. Work varies depending upon the bike repair and maintenance requests. Services offered through the bike shop include tire replacement, tube repair and replacement, wheel tuning, brake adjustment, derailleur adjustments, full tune-ups, and more! Attendants may also be asked to work the climbing wall and gear rental desk as needed, for a total of 20 hours per week. Experience with bike repair is preferred, but training is provided.