Equipment Rental and Bike Repair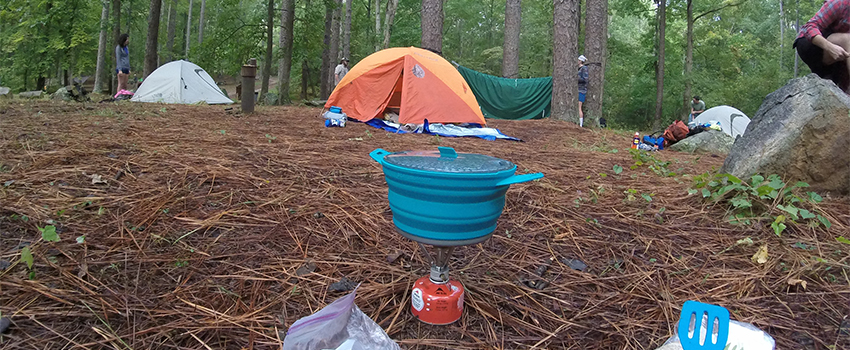 Equipment Rental
Don't let a lack of gear prevent you from planning a fun and memorable outdoor adventure. USA's Outdoor Adventure program provides quality rental equipment to enrolled students, USA employees, and Student Recreation Center members. With a budget in mind, 1-3 day and 4-7 day packages are available. Visit our equipment rental request to start your journey. Contact outdooradventures@southalabama.edu or call 251-460-7002, Monday-Friday, 3:00-7:00pm for more information.
All rental charges are invoiced through our Campus Recreation Portal. We do not accept cash or check for payment.
Equipment must be returned in accordance with your rental agreement. Charges will incur for damage from neglect, abuse or misuse of equipment.
The Outdoor Equipment Desk is open Monday through Friday from 3:00pm - 7:00pm. Please provide a 48-hour notice for best possible service. Pick up and return outside of regular business hours may be handled on a case by case basis with ample notice.
Examples of equipment and starting prices:
$17.50 for a 2 person tent, 1-3 days
$22.50 for a 4 person tent, 1-3 days
$10.00 for an Eno Doublenest Hammock, 1-3 Days
$15.00 for 1 person kayak, 1-3 days
$20.00 for a tandem kayak or canoe, 1-3 days
$15.00 a mountain bike, 1-3 days
Bike Repair
Outdoor Adventures has a bike repair shop in the Outdoor Adventures Cabin, located on Fincher Road (number 11 on the campus map). Please fill out the bike repair request form to arrange drop-off and pick-up times. See services and prices below.
▼ Equipment Rental Pricing
| Items | 1-3 Days | 4-7 Days |
| --- | --- | --- |
| Backpacks | $10 | $15 |
| Sleeping Bag | $5 | $7 |
| Sleeping Pad | $3 | $6 |
| Two-person Tent | $17.50 | $25 |
| Four-person Tent | $22.50 | $30 |
| Items | 1-3 Days | 4-7 Days |
| --- | --- | --- |
| Canoe Package (1 canoe, 2 paddles, 2 PFDs) | $20 | $40 |
| Kayak Package (1 kayak, 1 paddle, 1 PFD) | $15 | $27.50 |
| Snorkel equipment (mask, snorkel, fin) | $5 | $10 |
| Stand-Up Paddleboard (SUP) Package (1 SUP, 1 paddle, 1 PFD) | $20 | $37.50 |
| Items | 1-3 Days | 4-7 Days |
| --- | --- | --- |
| Two Burner Stove | $12 | $20 |
| Superfly Backpacking Stove | $4 | $5.50 |
| Pot Set | $5 | $7.50 |
| Dining Set | $3 | $6 |
| Items | 1-3 Days | 4-7 Days |
| --- | --- | --- |
| Double ENO Hammock | $10 | $15 |
| Mountain Bike + Helmet | $15 | $37.50 |
▼ Bike Repair Pricing
Service

USA Faculty/Staff

(non-members)

Labor Price

SRC Member

Labor Price

Enrolled Student

Labor Price

Bar ends replacement
$10
$8
$5
Bar tape replacement
$16
$14
$12
Brake adjustment
$12
$10
$7.50
Drivetrain clean & lubricate
$14
$12
$10
Front derailleur adjustment
$14
$12
$10
Full tune-up
$100
$80
$60
Rear derailleur adjustment
$16
$14
$12
Tire replacement
$12
$10
$7.50
Tube repair
$14
$12
$8
Tube replacement
$12
$10
$7.50
Wheel tuning
$32
$24
$16