Journalism (Multimedia and Broadcast)
USA Department of Communication
According to the U.S. Bureau of Labor Statistics, communication and media occupations are projected to grow 14 percent by 2030 resulting in 151,000 new jobs. Effective communication is necessary in all industries to build and maintain relationships and to convey information to diverse audiences. The student experience focuses on personal interests and professional goals through an integrated curriculum and hands-on involvement, exceptional internships and concentration-specific student organizations. Students are trained, independent, critical thinkers who uphold the highest ethical and professional standards as communication leaders in a global society.
Bachelor of Arts in Journalism (Broadcast and Multimedia)
Tell stories that make a difference. Seek truth and serve the public good with the tools of a successful journalist. Majors in this program learn to write, report, interview, investigate and relay information for broadcast, print and digital mediums. Students can choose between two journalism concentrations: broadcast and multimedia.

Internship Opportunities
Journalism majors have opportunities to complete internships, which allows students to apply classroom knowledge in professional settings, gain exposure in their chosen career field, build professional connections and gain hands-on experience. Our program has relationships with organizations in various settings such as nonprofits, educational institutions, agencies, private businesses and government entities.
ESPN+

Fox 10 News (WALA)

WKRG News 5 (CBS)

NBC 15 News (WPMI)

Elevator World

The Bama Buzz

Mobile Bay Magazine

ZEW (WZEW 92.1)
Student Involvement
Students can get involved through student media, clubs and organizations across campus or specifically in their major. Students build leadership skills, plan events, create and produce content, design campaigns and network professionally by becoming involved in department groups such as the American Advertising Federation, Public Relations Student Society of America, Lambda Pi Eta and JagMedia.
JagMedia
JagMedia is the student media group of the University of South Alabama and includes The Vanguard newspaper, Due South magazine, JagTV and WJGR 97.1 The Prowl radio. JagMedia provides a multimedia learning environment mirroring professional industry standards and practices to prepare students for placement in media jobs. All media is student-operated and open to all currently enrolled students regardless of major.
ESPN+ Broadcast Team
Many colleges hire freelance crews to broadcast home football games, but the University of South Alabama relies on a team of student workers. From working in the control booth editing feed to working as a camera operator in the stands, the duties and experiences are endless.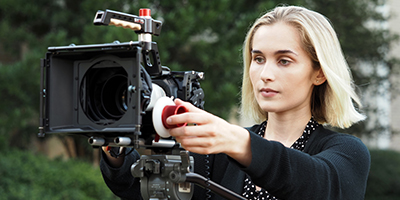 Broadcast Journalism
The broadcast journalism track teaches students how to write, report and break news in the broadcast and digital world. Students gain hands-on experience filming and editing footage.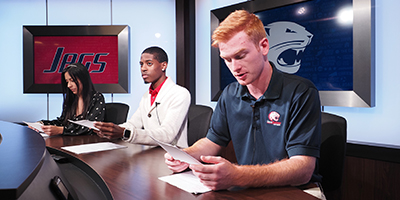 Multimedia Journalism
The multimedia journalism track prepares students to investigate and report events and relay information through newspapers, magazines, the internet, social media and mobile.