Communication Students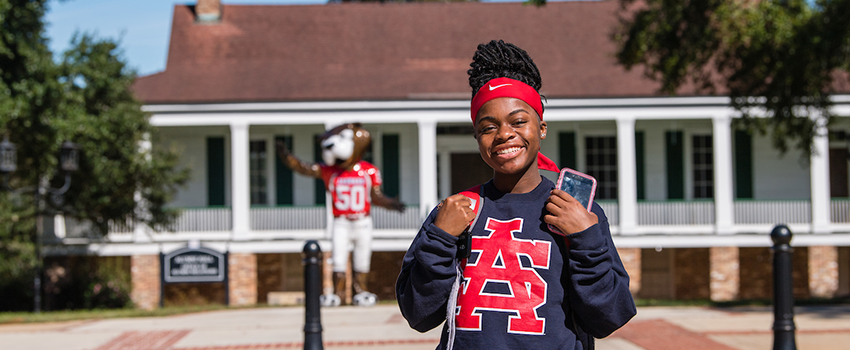 JagMedia | Internships | Study Abroad | Advising | Communication Scholarships
Student Organizations | Awards | Student Spotlight


JagMedia
Jag Media is the student media group of the University of South Alabama under the direction of the Department of Communication. Jag Media includes The Vanguard newspaper, Due South magazine, JagTV and WJGR 97.1 The Prowl. All media is student-operated and open to all currently enrolled students regardless of major. Learn more about Jag Media and join today.

---
Internships
The Department of Communication internship program provides undergraduate students the opportunity to gain hands-on experience in a professional setting. Students fill positions in areas such as broadcast journalism, multimedia journalism, advertising, public relations, radio, video productions, fundraising, social media, web services and athletic events.
Learn more about our internships
---
Study Abroad
Communication students have access to multiple study abroad opportunities. Learn more about the study abroad program.
Summer 2023 Study Abroad Opportunities in Communication
Culture and Communication in Italy
This program is a first term Summer 2023 (May 31-June 27) study abroad semester in the southwest region of Italy. You will choose from one of the classes listed below for 3.00 credit hours. We will spend Week 1 on campus, Weeks 2-3 in Italy, and Week 4 back on campus to wrap up the semester. You will learn about the history, cuisine, lifestyle, and traditions of Sorrento and the surrounding areas that we will visit, including the world-famous Amalfi coast. The cost is $5499 with a $500 scholarship for the first 10 students who commit, making the cost $4999.
For more information, please contact Katherine Koury.
---
---
Communication Scholarships
Scholarships are available through the Department of Communication, College of Arts and Sciences and many outside organizations. Click here for the latest listing of communication scholarship opportunities.
---
---
Student Spotlight
The Department of Communication desires to acknowledge the accomplishments of its students. Students, chosen by professors, will be featured from each major: Communication Studies, Journalism, Digital Film and Television, and Advertising and Public Relations.
---
---