Admission Requirements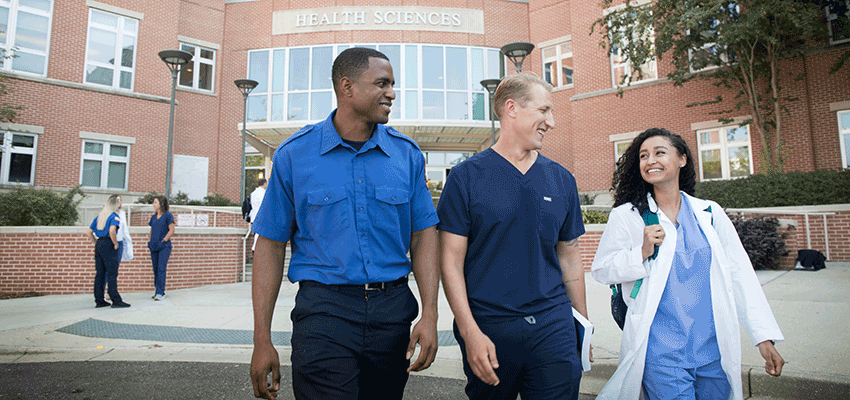 Important Admission Information
Students are strongly encouraged to schedule an advising appointment at least two weeks prior to the start of class. Contact Kristen McKenna to schedule an advising appointment.
Thank you for your interest in the University of South Alabama's Emergency Medical Services certificate and degree programs. The vast majority of our courses are offered each semester and we have no waiting list. Our Paramedic Certificate program is designed to be completed in five (5) semesters. The first semester is EMT Basic, the second is Advanced EMT, and the following three are Paramedic courses. We look forward to having you join our program.

If you are interested in bachelor's courses, or are an existing Paramedic interested in pursuing a bachelor's in EMS please contact Kristen McKenna.


First Step - Admission to USA
Your first step as a prospective student is to complete an application for admission to the University of South Alabama. After that, you will need to request all transcripts from high school or other colleges be sent to USA by following the directions as outlined by the Admissions Department. You may apply online for a fee of $35.00 by visiting USA's Admissions Office.


Required Documentation for Admission
Once you have been accepted as a student, you will need to fill out, complete and return the required documentation as listed below. The New Student Packet includes this checklist of entry requirements. This documentation must be received before an advising appointment is scheduled. Once all documentation requirements are met, each student must then complete a Drug and Background check, which is a Federal requirement. Following the completion of all entry requirements, the student will be scheduled for advising and will be enrolled into classes.

To turn in the required documentation for advising and entry into the program, please email paperwork to Marla Snell. You may also fax the items to (251) 461-1823. As soon as you have turned in all required documents an advising appointment will be scheduled for you. If you have other questions not addressed in this packet you may call our office at (251) 461-1832.
Additional Requirements and Expenses

Further questions will be answered in your New/Transfer Student Orientation session OR advising appointment. Students who are required to register for an Orientation Session by the university DO NOT need to schedule an additional advising as you will meet with advisors at your orientation.


Important Links
You can review specific course listings, credit hour requirements, and more information about our programs by choosing the appropriate program link below.

To review the University of South Alabama's admission requirements, registrar's office information (for transcripts, etc.), financial aid information and much more, go to Student Information.
To review the University's tuition and fees, go to USA Tuition and Fees Schedule.
To visit the USA Bookstore, go to USA Bookstore.
To view textbooks for EMS courses (located under "Health Sciences Books") and specific course textbooks, go to Course Books Search.