EMS Mission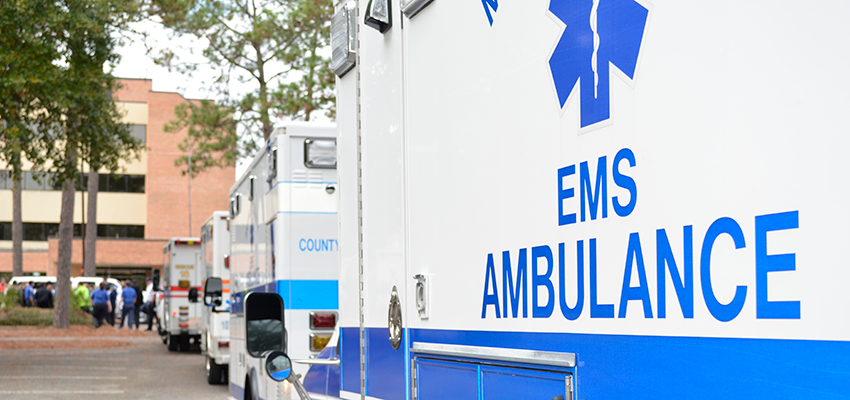 Administration
Department Chair
Charles Erwin, Ed.D., NRP

EMS Program Director
Joel Ellzie, MHA, NRP


CoAEMSP Status Statement
To prepare competent entry-level Paramedics in the cognitive (knowledge), psychomotor (skills), and affective (behavior) learning domains with or without exit points at the Advanced Emergency Medical Technician and/or Emergency Medical Technician, and/or Emergency Medical Responder levels.


Purpose and Mission
The primary purpose of the Department is to educate emergency medical services professionals at the EMT, Advanced EMT, Paramedic and baccalaureate levels. The Department also is committed to providing life-long educational opportunities and continuing medical education programs to all emergency health-care professionals in the region including, physicians, nurses, paramedics and other allied health-care professionals.

Central to this mission is the Department's on-going commitment to stay abreast of the latest research, regulatory issues and standards of practice affecting the various professional disciplines and technical fields of emergency services. The Department will continue to promote excellence in education and training and will continue to strive to improve the safety and health of the citizens of this region.


Goals
To prepare students as competent entry-level EMT's and Paramedics.
To provide a baccalaureate level educational program for paramedic students aspiring to careers in EMS administration and leadership.
To provide high-quality continuing medical education and life-long training opportunities to University, community and area-wide physicians, nurses, paramedics and other allied health-care professionals.
To serve as the regional EMS lead agency for the seven county southwest Alabama EMS region (ADPH -EMS Region 6).
Core Values
Faculty who are committed to their students and to excellence in teaching and service.
Students who are committed to learning and who are eager to apply their knowledge and skills.
Academic programs that are state-of-the-art, high quality and responsive to the needs of students and our communities of interest.
Academic environment that is supportive, collegial, intellectually stimulating and conducive for learning.
Communities of interest and stakeholders who are actively engaged and supportive of the department's academic programs.
Vision Statement
In following our Mission and Core Values, the Department's faculty and staff envision a future whereby the University's EMS Department is regarded as:
One of the nation's most highly respected institutions for the education of emergency medical services (EMS) professionals.
A learning community of EMS educators, scholars and mentors where students and faculty benefit through the exchange of ideas and the transfer of knowledge.
An institution whose EMS faculty and staff are highly respected and recognized for their expertise at the local, state and national levels.
An institution that is on the cutting edge and where the faculty are committed to the latest research and technology in EMS.
An institution whose academic environment is one that is encouraging, cooperative, interactive, challenging and supportive.
A regional resource center for EMS providers and other emergency response professionals in the seven county southwest Alabama EMS Region (Region 6).