Alabama Gulf Emergency Medical Services System (AGEMSS)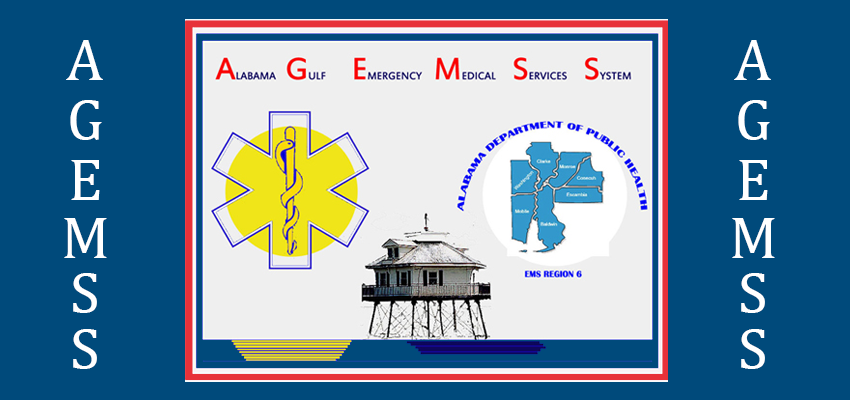 Online Classes
Overview of AGEMSS
The Alabama Gulf Emergency Medical Services System (AGEMSS) is a service unit of the Department of Emergency Medical Services (EMS) Education at the University of South Alabama. AGEMSS was awarded a contract by the Alabama Department of Public Health (ADPH) in 2006 to serve as the regional EMS agency for region six. The primary role of AGEMSS is to facilitate regional EMS system coordination and improvements in pre-hospital emergency medical care within the seven counties that make up ADPH EMS Region Six. These counties are: Baldwin, Clarke, Conecuh, Escambia, Mobile, Monroe and Washington.


Purpose of AGEMSS
The purpose of AGEMSS is to:
Function as the initial point of contact for all local EMS issues or concerns.
Operate as an effective means of communications between local communities and the ADPH Office of EMS and Trauma.
Organize and coordinate local EMS meetings especially with the participants in a regional MDAC Plan on at least a quarterly basis.
Assist local EMS services with pre-hospital data collection and submission in accordance with the EMSIS program or other programs so designated by the state EMS rules.
Assist local EMS services, training programs and the Department with on-going EMT credentialing and education activities.
Function as a clearing house for EMS education activities in the region.
Assist the ADPH in implementation and coordination of regional functions of a statewide trauma system.
Goal of AGEMSS
The goal of AGEMSS is "Quality Improvement in Emergency Care."


Staff
Will Montalban, BS, NRP
Executive Director

Stephen E. Bowden, MD
Medical Director

Will Montalban, BS, NRP
CME Program Administrator

Jeremy White, AAS, NRP
Acute Care Director

Lamar Green, BS, NRP
Director of Field Operations


Contact Information
Alabama Gulf EMS System
600 Clinic Drive – Suite 400
Mobile, AL 36688-0002

Cellular: (251) 472-7810
Office: (251) 461-1832
FAX: (251) 461-1823
Email: Will Montalban