Health Education (6-12) M.Ed.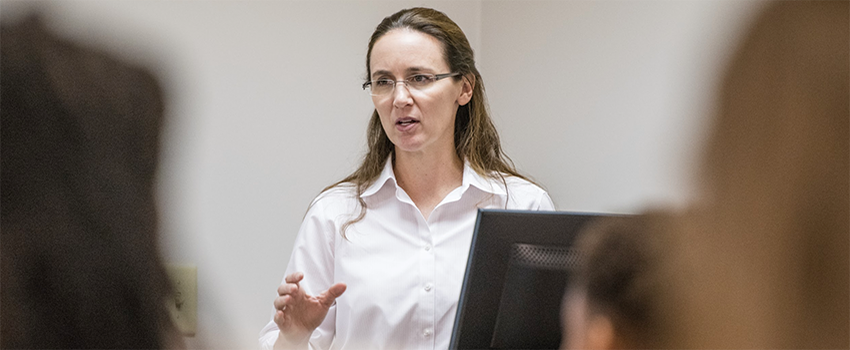 The Master of Education in Health Education (6-12) is a teacher certification program designed to prepare the student to teach Health Education in the school. Satisfactory completion of program requirements leads to a Master of Education degree with eligibility for Class A Teaching Certification awarded by the Alabama State Department of Education. The program is 30 credit hours.
Program Overview
The program is approved by the Alabama State Department of Education (ALSDE) and the Council for the Accreditation of Educator Preparation (CAEP). Students are educated and trained to teach health as a subject, implement school health education programs, promote a healthy school environment, and develop school and community partnerships. Course work includes a variety of curriculum and teaching, professional studies, technology, and teaching field courses. Teaching field course work addresses issues related to substance abuse prevention, nutrition and weight control, disease prevention, and other pertinent health issues. The program of study also provides experiences that introduce and advance student participation in basic research related to the field of health education.
Who Should Apply
If you already possess a Class B teaching certificate or the equivalent in health education and want to further your education, then consider pursuing the Master of Education in Health Education (6-12) degree at the University of South Alabama.
Contact
Dr. Shelley Holden
(251) 461-1611
sholden@southalabama.edu
▼ Admission Requirements
A bachelor's degree from an accredited institution of higher education.

*USA students applying to a USA graduate program in the College of Education and Professional Studies should complete a transcript request form found on the University Registrar's Office website.

In the Name/Organization field for the transcript recipient write, "USA Graduate School". There is no charge associated with this request. This option applies only to USA transcripts for students applying to USA graduate programs.
GPA Requirement: A minimum overall grade-point-average (GPA) of 2.5 on a 4.0 scale based on the GPA used as the basis for granting the degree and posted on the official transcript from a regionally accredited institution at the time the degree was earned

OR

a 2.5 GPA on the last 60 semester hours of undergraduate course work posted on the official transcript from a regionally accredited institution at the time the degree was earned.

GPA Exception: Individuals who have earned a bachelor 's degree from a regionally accredited institution at the time the degree was earned and who do not have a qualifying GPA for admission may seek admission based on a qualifying score of the Graduate Record Examination (GRE) or the Miller Analogies Test (MAT). For the GRE, this standard is defined as having a score at the 50th percentile on all of the following subtests: Verbal Reasoning, Quantitative Reasoning, and Analytical Writing. For the Miller Analogies Test, students must have a score at or above the 50th percentile based on the total group percentile rank score. For Alternative Class A programs, applicants must submit a qualifying alternate score on the Alabama-prescribed Praxis subject-area test.


A valid bachelor's level (Class B) Professional Educator Certificate in the same teaching field in which the Class A Professional Educator Certificate is sought.


Personal statement on applicant's career goals and purpose for graduate study.


Sufficient coursework in the major subject to qualify for graduate study in the involved discipline. Students with a deficiency in relevant coursework may be required to successfully complete additional prerequisite courses.

To apply - click here to get to the admissions login page.
▼ Health Education Facilities
The Health, Kinesiology, and Sport Classrooms and Computer Lab are equipped with Smart Board® technology, projectors, and PCs with internet access. Other facilities include a weight-room, two gymnasiums, dance and martial arts studios, and instructional and research laboratories.