Master of Science in Sport Management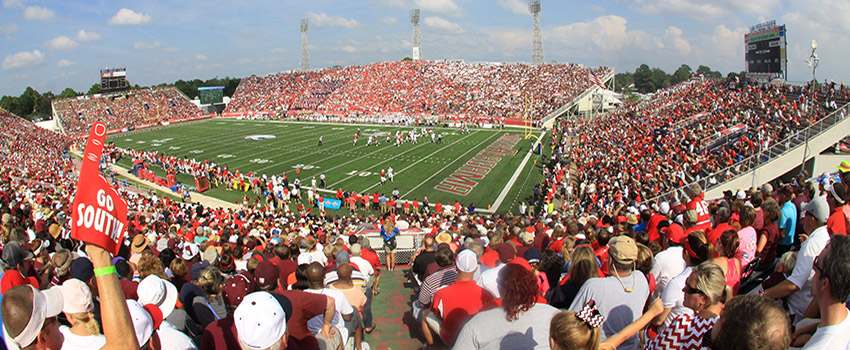 Enhance Your Career in Sport Event and Organizational Management
The Online Master of Science in Sport Management Degree focuses on elements of the sports industry with a specific emphasis on sport event and organizational management. Individuals wishing to carve out a distinct personal path in the sport industry will benefit from this 30 hour online academic program.
Why Sport Management at the University of South Alabama
With a diverse range of sport occupations now available, the M.S. Sport Management Program at USA provides the capabilities and confidence to lead community and youth sport programs, high school or intercollegiate athletic departments, professional and international sports teams, governing body divisions, state and city sport commissions, or sport venue operations. The Sport Management curriculum applies concepts in real-life situations at multiple levels of sport participation and spectator based events with an opportunity to excel because of a distance education that is accessible online.
Program of Study
Students in the program utilize distance technology via USA's online learning management system to identify current issues in the sport industry and develop strategies to problem solve social, cultural, political, economic, marketing and environmental issues as they relate to sport event and organizational management. Essential skills in sport management, interpretation of research literature, critical inquiry and problem-solving are vital aspects of the program. This program is offered with non-thesis or thesis options.
Who Should Apply
Whether you are involved in athletic administration, coaching, sport programming or facility administration this is an ideal program if you are looking for career development opportunities to enhance critical thinking, technical and specialized skills in sport event and organizational management.
▼ Admission Requirements
A bachelor's degree from an accredited institution of higher education.



*USA students applying to a USA graduate program in the College of Education and Professional Studies should complete a transcript request form found on the University Registrar's Office website.

In the Name/Organization field for the transcript recipient write, "USA Graduate School". There is no charge associated with this request. This option applies only to USA transcripts for students applying to USA graduate programs.



GPA Requirement: A minimum overall grade-point-average (GPA) of 2.5 on a 4.0 scale based on the GPA used as the basis for granting the degree and posted on the official transcript from a regionally accredited institution at the time the degree was earned OR a 2.5 GPA on the last 60 semester hours of undergraduate course work posted on the official transcript from a regionally accredited institution at the time the degree was earned.


GPA Exception: Individuals who have earned a bachelor 's degree from a regionally accredited institution at the time the degree was earned and who do not have a qualifying GPA for admission may seek admission based on a qualifying score of the Graduate Record Examination (GRE) or the Miller Analogies Test (MAT). For the GRE, this standard is defined as having a score at the 50th percentile on all of the following subtests: Verbal Reasoning, Quantitative Reasoning, and Analytical Writing. For the Miller Analogies Test, students must have a score at or above the 50th percentile based on the total group percentile rank score. For Alternative Class A programs, applicants must submit a qualifying alternate score on the Alabama-prescribed Praxis subject-area test.



Personal statement on applicant's career goals and purpose for graduate study.



Sufficient coursework in the major subject to qualify for graduate study in the involved discipline. Students with a deficiency in relevant coursework may be required to successfully complete additional prerequisite courses.


Career Opportunities for Sport Management Graduates
Because sport managers are in high demand in a variety of settings, as a graduate of the Master of Science in Sport Management Degree program you become more marketable for a variety of positions including:
Minor/Major Professional Leagues
Collegiate and Scholastic Athletics
Community or Recreational Sport Programs
National and International Sport Associations
Sport Agencies, Commissions, and Tourism Bureaus
Outdoor and Adventure Sport Contests
Traditional, Niche and Extreme Sport Event Management
Sport Participation and Spectator Based Event Companies
Health and Fitness Competitions
Marketing and Promotions at various Sport Industry Levels
Sport Sales (ticketing, sponsorship, media, and concessions)
Contacts
Dr. Christopher Keshock
(251) 461-1613
ckeshock@southalabama.edu
Dr. Brooke Forester
(251) 461-6731
bforester@southalabama.edu
Dr. Mitchell Woltring
(251) 461-1925
mitchellwoltring@southalabama.edu