Jag Drumline Auditions
Applying to Audition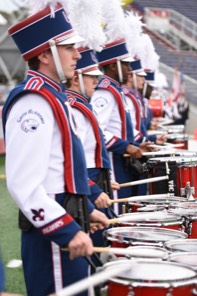 In order to audition for the Jaguar Drumline, new students should be admitted to the University of South Alabama and have completed the Jaguar Drumline and Colorguard Audition Application. You do NOT have to be a music major or minor to participate in the Jaguar Marching Band. ALL percussionists must audition/re-audition for the Jag Drumline. Every percussionist who gains membership in the USA Jaguar Marching Band will receive a $2,100 renewable annual scholarship that increases by $200.00 for each year of service to the JMB. As a member, you will enjoy the excitement and pride of being a part of the USA Jaguar Marching Band!
Auditions for the 2024-2025 Jaguar Drumline will be Saturday, April 20 2024.
Philosophy
The philosophy for the USA Jaguar Drumline is based on leadership, musicianship, teamwork, preparation, responsibility and commitment. We strive to teach and work BEYOND just the drumline. Buying into and demonstrating these qualities throughout the entire season will be the key to our success. In addition, you must have a positive attitude and be able to get along with others.
WHAT WE ARE LOOKING FOR
PREPARATION - Preparation refers to how much and how well you practice. It also refers to whether you have spent time reading and studying the entire packet in detail. Your preparation will determine how confident you are when you play and how well you know the material.

TECHNIQUE - Technique refers to grip, stroke, control, and overall understanding of mechanics. We utilize a relaxed and rebounded a approach to technique which produces a quality sound at all levels, speeds, mediums, and playing philosophies that transcend more than just the activity of marching percussion.

READING - Learning by rote is NOT an option, you MUST be able to read music. With the large quantity of music that college drumlines play, the ability to visually read and verbally count rhythms as well as understand standard stickings is required. We will perform approximately 50 charts including exercises, cadences, cheers, stand tunes, pre-game, and multiple half time shows.

MEMORIZATION - Memorization demonstrates attitude and confidence. It shows that a person is dedicated to being a part of the drumline and has thoroughly prepared. Given that auditions are held late in the previous school year, memorization becomes even more valued.

COLLEGIALITY - Students are expected to treat other students and staff with respect.

TEAMWORK - A team player is someone who is not only willing, but eager to do what is best for the group. Team players embrace their role, regardless of what section they make, and they put the interests of the marching band and drumline ahead of their own.
2023 Audition Packet
All audition packets links include a welcome letter with detailed information about the Jaguar Drumline, audition clinic, and helpful information as you prepare! If you have specific questions please feel free to contact us at usajmb@southalabama.edu.
2024 Audition Packets
Available January 15, 2024!
Audition Procedure
Each section will audition together as an entire marching percussion section on a rotating basis, trying various player combinations. Following that, students will be asked to sight read and play individually. Results will be posted at various points during the camp. It is highly encouraged that you prepare to audition on various instruments based on your experiences and strengths (i.e. bass drum / tenors or cymbals / snare drum). Students are placed according to their personal strengths and NEEDS of the section. Be prepared to audition on multiple instruments within the section. If you are asked to play something that you have not prepared, then do your best. The staff knows this and is more interested in seeing how quickly you learn, your musical aptitude and most importantly, your attitude towards doing it.
Students auditioning on bass drum should prepare multiple parts (#1-5). Cymbal players should pick one of the split parts marked as A (above the line) and B (below the line) in the parts. The cymbal line performs various techniques including crashes, chokes, hi-hats, sizzles, slams, slides, zings, and taps. If you are unfamiliar with these, just do your best. We will work with you upon arrival.