Health Informatics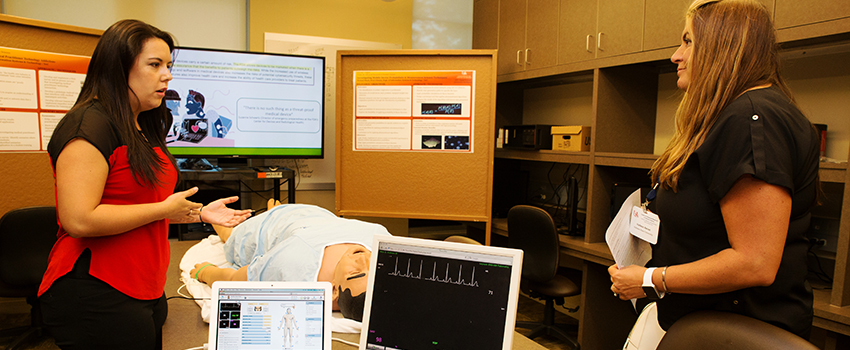 SoC student and SFS scholar Miranda Jahn (left, red shirt) explains research on compromising a medical mannequin.
SoC is the only school in the region to offer a major, in addition to a concentration, in Health Informatics (HI). Our research focus is on risk assessment of healthcare systems as well as health informatics curriculum development.
A number of our faculty working in Data Science are doing research in medical and bio- informatics, with some crossover and collaborative work with our health informatics faculty. Research in the HI field is often interdisciplinary, with investigators in the medical disciplines being frequent collaborators.
Recent HI research by SoC faculty and students includes:
Contact Us

Chair of CS,

Associate Professor

(251)-460-7361
rbenton@southalabama.edu
David Bourrie
Associate Professor
(251)-461-1761
dbourrie@southalabama.edu

Matt Campbell
Associate Professor,
HI Curriculum Coordinator

(251)-461-1602
mattcampbell@southalabama.edu
Jingshan Huang
Professor
(251)-460-7612
huang@southalabama.edu
Tom Johnsten
Professor
(251)-461-1599
tjohnsten@southalabama.edu
Jeff Landry
Professor,
IS Curriculum Coordinator
(251)-461-1596
jlandry@southalabama.edu

Harold Pardue
Professor,
Dean of Graduate Studies

(251)-461-1600
hpardue@southalabama.edu