Johnson Haynes, Jr., M.D., Comprehensive Sickle Cell Center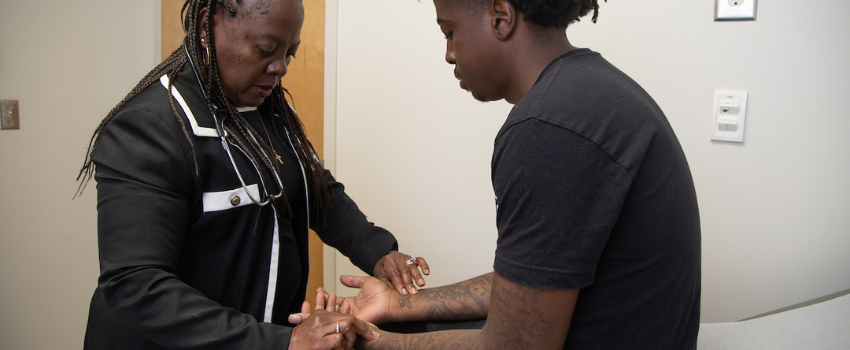 The Johnson Haynes, Jr., M.D., Comprehensive Sickle Cell Center at the University of South Alabama provides consultation for the diagnosis, management, and treatment of children and adults with sickle cell disease.
Our mission is to improve the lives of persons affected by this disease through comprehensive clinical care, basic and clinical research, and patient and professional education, proving that there is: Life After Birth with Sickle Cell!
As a result of mandatory newborn screening, penicillin prophylaxis, and pneumococcal vaccines, the life expectancy of babies born with sickle cell disease in the United States has improved to the 4th and 5th decades of life. While the survival rate has improved, one third of adolescents and young adults delay or do not successfully transition to adult care and are lost to medical follow-up for the management of their sickle cell disease.
Many issues negatively affect the transitioning process, such as poor planning, ineffective patient-physician communication, cultural barriers, lack of access to healthcare providers and lack of adequate insurance coverage. Transitioning from pediatric to adult services has proven to be a challenge in the sickle cell community.
One of the innovative ways the center serves pediatric patients is through the Pediatric to Adult Care Transition (PACT) program. Established in 2012, this program was designed to promote and facilitate the transition of pediatric patients with sickle cell disease to adult services.
The goal of the PACT program is to establish a working relationship with adolescent patients starting at age 13 and their parent/caregiver to help pave the way for a more efficient and effective transition. The program incorporates preparation, education, and a multidisciplinary team approach to bridge the gap between pediatric and adult healthcare systems for sickle cell participants between the ages of 13-19.
Because a nurse practitioner and registered nurse work closely within both systems, this gives participants the advantage of already knowing members of the adult healthcare team, and as a result, they are more likely to progress in their care without incident.
The ideal result is to help patients better prepare for the transition with little to no complications. Ten years into the program, the center boasts an 82% successful transfer rate. Our hope is to continue to bridge the gap and make the process of transferring from pediatric to adult healthcare a smooth transition using our proven multidisciplinary approach.