Medical Student Summer Research Program
The Frederick P. Whiddon College of Medicine sponsors a summer Medical Student Research Program every year. Through this program, students develop an appreciation of how research contributes to the knowledge and the practice of medicine. Accepted entering medical students or rising second-year medical students in the USA College of Medicine are eligible. The summer experience includes: hands-on research related to basic science and/or clinical medicine, a seminar program that focuses on various scientific and clinical topics, and student presentations at Research Day. Support for the program is provided by the Dean's Office.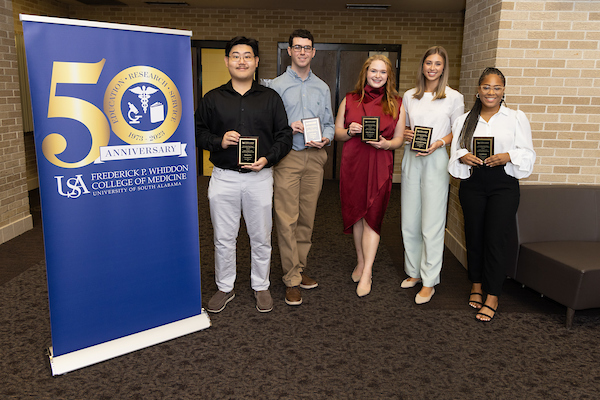 Congratulations to the 2023 Clyde G. Huggins awardees! Five medical students were carefully selected by faculty judges and recognized for their outstanding research presentations during the 50th Annual Summer Research Day. Students were presented with a plaque and $100 award by Dr. Robert Barrington, Chair of the Medical Student Summer Research Program.

Richard Fu, Conner Hall, Kelly Blacksher, Brooke Tarrant, & Cya Johnson
(left to right)
Important Resources & Links - Medical Student Summer Research Program
2022-2023 Program Chair
Dr. Robert Barrington, Department of Microbiology & Immunology
Frederick P. Whiddon College of Medicine
(251) 461-1718
rbarrington@southalabama.edu
Program Coordinator(s)
Skye Andrade, Office of the Associate Dean for Research
Frederick P. Whiddon College of Medicine
(251) 461- 1910
skyeandrade@southalabama.edu
Marcina Lang, College of Medicine Dean's Office
Frederick P. Whiddon College of Medicine
(251) 460-6041, Fax (251)341-3994
marcinalang@southalabama.edu